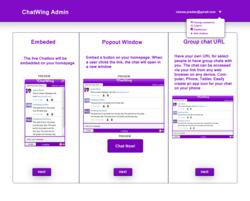 Los Angeles, CA (PRWEB) December 26, 2012
Online job seeking is now reaching a new paradigm because of different methods of relaying information. According to many professionals, website owners usually post links about different job opportunities. This simple act alone can attract tons of visitors, depending on the website's visibility. Chatwing, a company that develops chatrooms, has launched a versatile chat widget that can be used by online job seekers. Alternatively, website owners can use the application to improve the online presence of their websites. Chatwing's developers have focused on the application's communication potential.
Chatwing's chat box is a chatroom that can be installed to any website. It functions on a one-two step basis, and users can install it in just few seconds. In this latest version, Chatwing's developers have added customization options, as well as admin functions to give much control to the users. Admin functions include word filter parameters, message deletion, and a simple banning system for obnoxious members. Setting all of these options are easy.
Chatwing developers have also added an image upload option to the chatbox. This new feature can make any chatroom more entertaining for visitors. Now, online job seekers can have an entertaining time while looking for information. Social marketers can also benefit a lot from this option because it has been proven that images contribute to branding processes.
The Chatwing team is planning to add more features, such as multiple song playlist. With the playlist, visitors can now listen to their favorite songs all the time. Other upgrades are related to platform speed, efficiency, and installation process. With these upgrades, Chatwing's chatbox can be accessed easily by thousands of web users and chatters.
About Chatwing.com
Chatwing.com specializes in the new field of website chat. Over years, the Chatwing team has introduced live chat widget for hundreds and thousands of blogs. The Chatwing application bridges people from many parts of the world, creating global synergy through the Internet. The shout box can be installed in just seconds, and it can be used for varying purposes such as leisure and Internet marketing. It also allows a user to customize the size, color, and name of the widget.