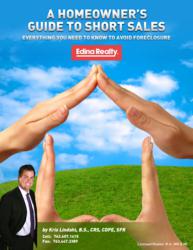 I'll walk the attendees through how to use the short sale calculators that I've created in order to check their eligibility
Blaine, MN (PRWEB) December 26, 2012
The Edina Realty agent Kris Lindahl will be holding a TCF Bank short sale meeting later this week in Blaine, MN that will cover how the lender handles the process and what you can do to make the whole process run more smoothly. Kris will also talk about several resources that he created for the general public.
"I'll walk the attendees through how to use the short sale calculators that I've created in order to check their eligibility and I'll also talk them through how to access my video series on YouTube," Kris Lindahl said. Lindahl will also be previewing his recently published eBook and explain how to download a complimentary copy of it.
The scheduled meeting is part of a larger campaign by Kris and the Kris Lindahl Team to get information out about several different banks and lenders for people looking for short sale information.
The Kris Lindahl team is made up of several hard working, full-time Edina Realty realtors that hold several designations including Certified Distressed Property Experts, Short Sale & Foreclosure Resources, and Council of Residential Specialists.
Call Kris and the Kris Lindahl Team at (763) 607-1415 for more information. Visit the Minnesota Short Sale Calculator website and download a complimentary copy of "A Homeowner's Guide To Short Sales". Check out the video series on YouTube.