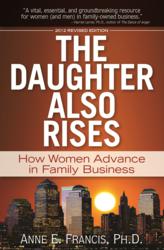 "...indispensable, practical and timely...." -Maxine Clark, Founder & Chief Executive Bear, Build-A-Bear Workshop
Topeka, Kansas (PRWEB) December 28, 2012
Marissa Mayer made headlines this year when she left Google for Yahoo!, where she became the youngest and first pregnant CEO of a Fortune 500 company. But the Yahoo! board's acceptance of Mayer's pregnancy and new role as a working mother is far from that of most working women, and particularly so for those who work in one of the last, unexpected, and unintentional strongholds of gender bias: the family business, says Anne E. Francis.
Francis is a renowned consultant to business families and the author of the fully revised 2012 book, The Daughter Also Rises: How Women Advance in Family Business.
Business families know first-hand the intense demands, pressures and challenges of leading—and finding future leaders for—their businesses. In many if not most family businesses, which account for 80 to 90 percent of all business enterprises in North America, the family behind the business unconsciously carves out distinctly different roles for the males and females in the family.
"Too often business-owner parents prepare their sons for leadership from an early age, while overlooking their daughters or seeing them as 'temporary' employees," says Francis. "Many family business leaders still believe that sons can work and have a family, while daughters can work or have a family."
Succession: the ultimate challenge
The financial consequences of overlooking or discounting daughters may be high. While independent family owned-businesses are an economic powerhouse, contributing 64 percent of the nation's gross domestic product and employing 62 percent of the U.S. workforce, it's a powerhouse that quickly loses steam. A mere one-third of family businesses survive into a second generation, barely 10 percent succeed to a third generation, and only about 4 percent to a fourth.
A strong succession plan is critical for family businesses to transition successfully to the next generation. "In preparing for succession, business families must tap all their best talent, not just the half that is male," says Francis.
Go-to guide: The Daughter Also Rises
Francis draws on three decades of experience consulting with top North American business families to offer practical help and hope in The Daughter Also Rises.

In Part 1, Francis takes readers behind the boardroom door to witness the complex and often highly charged relationships within business families.
In Part 2, Francis examines the business of running a family business.
In Part 3, Francis shows women in business families how to:
-- Determine whether they want to join the family business.
-- Assess their own strengths and weaknesses as leaders.
-- Create a career-development plan to guide them through a challenging and fulfilling career.
-- Learn the most common problems and best practices of families in business.
-- Find solutions to family conflicts that can damage the business.

In Part 4, Francis offers a straight-talking Q&A: All You Ever Wanted to Ask About Family Businesses But Were Afraid to Know.
About Anne E. Francis
Anne Francis, PhD, and her husband, Jack Fitzpatrick, PhD, are the founders of the Family Business Resource Center, a consulting firm that provides long-term solutions to family businesses and the people behind them. Francis also provides executive and organizational consultations to publicly traded companies. She lectures widely on how to thrive in business and in a business family. Francis is licensed as a clinical social worker and a marital and family therapist.