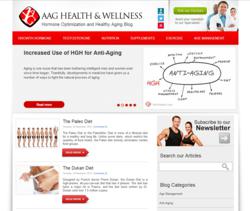 We're excited to share our blog with our clients and anyone interested in improving their health through Testosterone or HGH therapy.
Miami, FL (PRWEB) December 26, 2012
Social media and blogging has quickly become a viable communication channel and aaghealth.com/blog offers a perfect forum for generating a conversation with our clients and the industry at large.
AAG's Healthy Aging blog site will provide information on all things hormone related, relevant facts and recent news related to age management and healthy aging. In addition, the site will host links to videos, websites and other useful resources available online.
One of the most exciting features of the blog will be the questions and answers section with Dr. Frank Welch, AAG Health Medical Director. Blog users will be encouraged to submit health related questions for Dr. Welch to answer.
About AAG Health & Wellness
AAG Health & Wellness is the leading nationwide provider of age management medical services that promote hormone medications. Founded in 2003 and headquartered in Miami, FL, AAG Health is a concierge-style medical practice that provides successful mean and women cutting-edge treatment plans that deliver peak performance and higher quality of life. AAG Health has a network of over 25 medical health centers throughout the United States.
About Dr. Frank Welch
Dr. Welch is Board Certified by the American Board of Preventive Medicine. He has worked in both academic and public health civil service for 15 years and is a highly experienced age management and hormone replacement physician.
Dr. Welch is certified in anti-aging medicine with a special interest in diet and nutrition, weight loss, treatment of andropause / hypogonadism, male menopause treatments for androgen deficiency including testosterone replacement treatments. He is a founding member of AAG Health's Medical Advisory Board and currently serves as Medial Director, AAG Health Miami, FL.