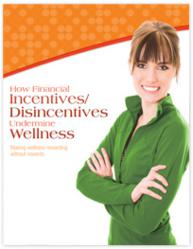 It's not a big surprise that paying people to get healthy isn't working
Midland, MI (PRWEB) December 27, 2012
The study, Impact of Financial Incentives on Behavior Change Program Participation and Risk Reduction in Worksite Health Promotion, was conducted by StayWell Health Management researchers. It involved 24 organizations with comprehensive worksite wellness programs and over 500,000 eligible employees. Results showed a significant positive effect of financial incentives on health coaching completion rates, but not on registration rates or change in health risk levels.
These results challenge the increasingly popular strategy of using monetary incentives to motivate health behavior change. If reducing health risks to stem the rising tide of healthcare costs is the primary objective of worksite wellness programs, many employers will need to rethink their approach.
"It's not a big surprise that paying people to get healthy isn't working," remarks Dean Witherspoon, President and founder of Health Enhancement Systems, which develops popular online wellness campaigns like Walktober, 10K-A-Day, and All In. "Financial incentives may get people to sign up and go through the motions, but if they're not ready to change, they're not going to change. Research from the fields of business, social psychology, and adult learning shows that financial incentives decrease autonomy and stunt the development of intrinsic motivation — the opposite of what you want to do to cultivate long-term behavior change," notes Witherspoon.
How Financial Incentives/Disincentives Undermine Wellness: Making wellness rewarding without rewards, a free white paper by Health Enhancement Systems, details the problems inherent with the carrot-or-stick approach. It also offers specific recommendations to help build intrinsic motivation for healthy lifestyle behaviors, such as:

Communicating a meaningful rationale for wellness programming. Help employees connect the dots: wellness activities and personal/family well-being, financial stability, and quality of life. Be honest about how employee health and wellness also affect your organization's culture, identity, productivity, expenses, and longevity.
Respecting the need for autonomy. Give employees the freedom to control their own health destinies and support them when they're ready to take action. Example: Make HRA completion voluntary. Outline the benefits, but leave it up to them. Put the resources in place to assist those who are ready to quit smoking, start exercising consistently, or manage stress more effectively. Preserving autonomy is vital to cooperation.
Rewarding cooperation, not outcomes. Awarding financial incentives for wellness outcomes amounts to paying healthy people for doing what they're already doing and punishing those with barriers (socioeconomic, physical, psychological, or genetic). In contrast, rewarding cooperation through team-based wellness programs takes the focus off individual outcomes and places it squarely on the group's well-being. This fosters ownership and an environment where coworkers support each other in making healthy choices each day.
"A National Business Group on Health survey found the average wellness incentive value was $460 in 2011 — up from $430 in 2010 and $260 in 2009," says Witherspoon. "With this approach, employers pay more each year to get workers to do the same thing — complete an HRA, jump through the hoops of a disease management program, or join a gym. It's not sustainable, and these new findings suggest it doesn't ultimately accomplish the goal — behavior change."
For more information, download How Financial Incentives/Disincentives Undermine Wellness: Making wellness rewarding without rewards at http://www.hesonline.com/reward.
Health Enhancement Systems creates employee wellness programs for organizations in North America and throughout the world. More than 20 effective, engaging HES wellness campaigns have been adopted by over a thousand organizations — serving hundreds of thousands of participants successfully.
For more information about Health Enhancement Systems, visit http://www.HealthEnhancementSystems.com or call 800.326.2317.