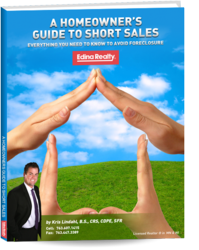 Once you've verified your eligibility you'll want to find an experienced agent
Blaine, MN (PRWEB) December 26, 2012
Kris Lindahl, the number one Edina Realty short sale agent, announced this morning that he will be hosting a short sale strategies meeting in Champlin Park, MN later this week. At the seminar Kris plans to explain how to access and use several resources that he has created for the general public to use. He will also be covering general short sale information.
One of the resources to be highlighted will be the Minnesota Short Sale Calculator website that Kris created for the general public to check their eligibility for the process. "Once you've verified your eligibility you'll want to find an experienced agent," Kris Lindahl says, and continues, "and that's another thing I'll be covering at the seminar."
In addition to the calculator Kris will also be reading from his recently published eBook and taking questions about specific banks and lenders. Kris recently received the Chairman's Award from Edina Realty for excellence in sales and sales volume. The Chairman's Award is the highest honor an Edina Realty agent can receive.
"I credit my success to hard work and a technological expertise that gives me the edge over other agents nationwide," Kris Lindahl said. He achieved $23 million in sales on over 130 houses for 2012.
Call Kris and his team at (763) 607-1415 for more information. Visit the Minnesota Short Sale Calculator website and download a complimentary copy of "A Homeowner's Guide To Short Sales". Also take a look at the YouTube video series here.