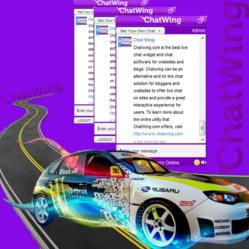 New York, NY (PRWEB) December 27, 2012
Applications have always been some of the major parts of the Internet, based on their numbers and prominence. Many online professionals have also discussed the variety of applications and their importance to the modern world. All applications have different purposes and a large percentage of them are often compared to fleeting fads. The Chatwing Development Team has finally launched its latest chat widget and the developers emphasized that the application is not a fad, but rather a versatile application that can adapt to changes.
Admin controls are also highlighted in the newest version of the Chatwing free chat widget. To remove profanity from any Chatwing chatroom, the user can set up word filters. Setting this up is easy—the user just needs to input profane words, and the chat app will do the rest. Those words will be blocked, preserving the chatroom's integrity. The Chatwing admin can also delete messages in just single clicks, and he can also ban members easily. These admin control options have benefited hundreds of Chatwing users and website owners.
Installation of the Chatwing chatbox can be finished in under a minute. However, the Chatwing team has noticed that the installation time depends on the preferences of the user. Meticulous users tend to take longer times because they had to tweak the right appearance of the widget. After website domain registration, the user can go directly to the Chatwing dashboard to start modifying the widget. Once the modifications are complete, the user can select the appropriate form factor and retrieve the HTML code needed.
The admin flexibility offered by the Chatwing chat box has benefited thousands of web users. Most of these users are website owners who want to achieve a significant rate of online presence for their websites. The Chatwing app helps website owners to attain this goal by improving the levels of online communication.
About Chatwing.com
Chatwing.com specializes in the new field of website chat. Over years, the Chatwing team has introduced live chat widget for hundreds and thousands of blogs. The Chatwing application bridges people from many parts of the world, creating global synergy through the Internet. The shout box can be installed in just seconds, and it can be used for varying purposes such as leisure and Internet marketing. It also allows a user to customize the size, color, and name of the widget.