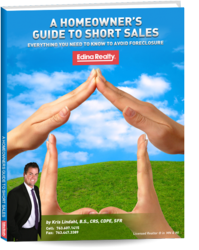 The most important part of the process...is that time is of the essence.
Blaine, MN (PRWEB) December 26, 2012
Kris Lindahl, an Edina Realty real estate agent, held a Vericrest short sale seminar on Tuesday morning in Blaine, MN. The seminar covered how the lender works through the short sale process. Lindahl also spoke about how to access and use several resources that he has created for the general public. The seminar was well attended at full capacity.
Kris Lindahl, the #1 Edina Realty short sale agent, explained that the first step in the Vericrest process, after finding an experienced agent who can write up a purchase agreement with a buyer, is to send the lender the required documents including a hardship letter, pay stubs, and tax forms. "From there the Vericrest negotiator and your agent will decide on a selling price for your home and then write up a short sale approval letter," Kris LIndahl explained at the seminar.
"The most important part of the process," Kris Lindahl began, and continued, "is that time is of the essence. You need to give yourself an adequate amount of time to get the short sale process done before foreclosure sets in." The best way to do that, Lindahl explained, is to find the best agent out there. "I believe that in order to buy or sell a home these days you need to have the best technological tools at your disposal and with me as your agent I can guarantee that will be the case," Kris said.
The Vericrest seminar is part of a larger campaign by Kris and the Kris Lindahl team which consists of several hard working, full-time Edina Realty realtors who hold designations such as Certified Distressed Property Experts, Short Sale & Foreclosure Resources, and Council of Residential Specialists.
Call Kris at (763) 607-1415 for more information. Download a complimentary copy of "A Homeowner's Guide To Short Sales" and visit the Minnesota Short Sale Calculator website to check eligibility. Also check out the Kris Lindahl real estate website.