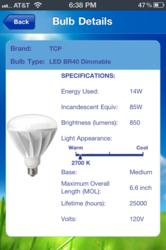 Los Angeles, CA (PRWEB) December 28, 2012
Starting January 2013, conventional 75-watt incandescent light bulbs will be phased out in favor of energy-efficient bulbs that use at least 27 percent less energy, as required by the Energy Independence and Security Act of 2007 (EISA). Smartphone and tablet users can quickly sort through all the new energy-saving bulb options with the free Light Bulb Finder mobile app. Based on simple inputs, the app immediately identifies energy-saving bulbs with equivalent light quality, fit and appearance.
The national phase-out of incandescent bulbs began last January with 100-watt bulbs. The 60-watt and 40-watt incandescents will be phased out in 2014.
Light Bulb Finder is available as a free download via iTunes, Google Play and the Amazon App Store. Consumers use the app to enter basic information about their current incandescent light bulbs and get instant recommendations for energy-efficient equivalents. For each recommendation, the app displays an image of the bulb, the estimated price, financial payback, energy savings, and environmental impact so that users can make informed decisions. Users can create shopping lists directly on their smartphones for easy reference in stores or buy bulbs directly through the app.
The app has been consistently recognized as one of the top efficiency and sustainability apps available. It was awarded "Best Overall App" in the EPA's Apps for the Environment Challenge and a winner of AT&T's Power Your Future competition.
Many utility companies offer bulb discounts through Light Bulb Finder to incentivize consumers to save energy through lighting which accounts for about 14% of home electricity consumption. Despite the significant savings potential, 3 billion of the estimated 4 billion light bulb sockets in U.S. households still use standard incandescents, rather than energy-efficient compact fluorescent lamps (CFLs) and lighting emitting diodes (LEDs).
If all U.S. households switched from incandescent to energy-saving light bulbs, it would be the energy equivalent of eliminating over 45 coal power plants and the greenhouse gas equivalent of removing 26 million cars from the road.
Light Bulb Finder app users already have saved an estimated $1.3 million in annual energy bills. The resulting elimination of greenhouse gas emissions through reduced electricity consumption is equivalent to taking 1,200 cars off the road.
To download Light Bulb Finder on an iOS or Android mobile device, visit the app store and search for "Light Bulb Finder."
The app was developed by Eco Hatchery, a software and mobile app developer specializing in residential energy efficiency and sustainability: http://www.ecohatcheryapps.com and http://www.ecohatchery.com . For more information, visit http://www.lightbulbfinder.net or follow Light Bulb Finder on Twitter http://twitter.com/#!/LightBulbFinder .