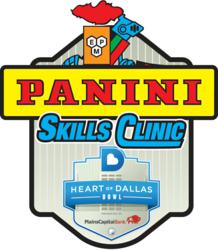 Irving, Texas (PRWEB) December 26, 2012
Panini America, the world's largest sports and entertainment collectibles company, announced today that it has been named the official trading card and sports and entertainment collectibles partner of the Heart of Dallas Bowl presented by PlainsCapital Bank. The Heart of Dallas Bowl will be played on New Year's Day 2013, at the historic Cotton Bowl and will feature Purdue (Big Ten) vs. Oklahoma State (Big 12).
The centerpiece of Panini America's partnership with the Heart of Dallas Bowl will be the inaugural Panini Heart of Dallas Skills Clinic featuring Dallas-area Pop Warner youth football programs. The event will feature coaches and players from Oklahoma State and Purdue as well as a retired NFL legend leading more than 200 local Pop Warner athletes through a fun and energetic series of football drills.
"This special event will provide local Pop Warner football programs the opportunity to be a part of a great event like the Heart of Dallas Bowl," said Jason Howarth, Panini America Vice President of Marketing. "At the same time, it will serve as an opportunity for the Heart of Dallas to engage its bowl participants in a meaningful way while reinforcing to the community the primary objective and commitment of the Heart of Dallas organization."
"Heart of Dallas is a way for our city to showcase its sports and entertainment for the benefit of those in need right here in our community," said Kern Egan, Heart of Dallas Board Member and principal and founder of The Richards Group's sports and entertainment discipline, Haymaker. "We are excited to have the support of Panini and the Pop Warner athletes involved in the bowl game."
As part of the Heart of Dallas Skills Clinic, Panini America officials will award a football helmet grant to one Dallas-area Pop Warner program as the culmination of a season-long promotion with the company's official 2012 NFL Sticker & Album Collection, which is available at retailers nationwide and online at http://www.icollectpanini.com.
In addition to the clinic, Panini America also will have a presence inside the Cotton Bowl on game day that will include brand signage, PA announcements and onsite exit sampling of Panini's NFL Sticker Collection Album.
Panini America is the only company in the world that manufactures licensed trading cards and stickers for the NBA, NFL, NFL PLAYERS, NHL, NHLPA, MLBPA and FIFA World Cup. The company also has exclusive relationships with USA Baseball, USA Basketball and the U.S. Soccer Women's National Team, Pop Warner, the Naismith Memorial Basketball Hall of Fame and The Pro Football Hall of Fame. Panini also owns exclusive entertainment licenses with One Direction, Disney, Justin Bieber, Hello Kitty and Michael Jackson, and more than 600 global licenses with other sports and entertainment properties.
ABOUT PANINI:
The Panini Group, established more than 50 years ago in Modena, Italy, has subsidiaries throughout Europe, Latin America and the United States. Panini is the world leader in officially licensed collectibles and is the most significant publisher of collectibles in the U.S., with official licenses for MLBPA, NBA, NFL, NHL, FIFA, USA Baseball, Disney, Nickelodeon, Warner Bros. and other key properties from many other licensors. Panini has distribution channels in more than 100 countries and employs a staff of over 800. For more information visit us at http://www.paniniamerica.net, http://www.paninigroup.com or http://www.paniniamerica.wordpress.com. You can also follow Panini America on social media platforms Facebook, Twitter and on YouTube.
ABOUT THE HEART OF DALLAS:
The Heart of Dallas organization exists to inspire Dallas millennials to become the next generation of influencers and philanthropists by leveraging a consistent calendar of sports and entertainment events. Proceeds from Heart of Dallas activities will be used to invest in collective impact strategies that make Dallas a better place. Demonstrating Heart of Dallas' commitment to its home city, net profits from the inaugural event will benefit charities serving the homeless population in Dallas.