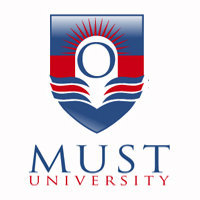 Columbus, OH (PRWEB) December 28, 2012
MUST University, a leading online institute, has successfully launched its Learning Awards of Excellence, honoring 5 exceptional students with the awards for their outstanding academic performance.
The award is the highest academic achievement that students can earn by demonstrating their academic skills in the field of research, critical thinking and above par fulfillment of course requirements. Evidence of these accomplishments is compiled by a unique point system measured by faculty in the online and mobile classroom environment as well as first-rate completion of particular assignments and projects.
Brian Reeves, communications director of the University, says, "Other qualities taken into account were students' ability to independently conduct research and involvement in various creative activities, prior academic & professional accomplishments as well as community involvement at various social media platforms of the University."
The top 5 proud winners of MUST's Annual Learning Award of Excellence are Edgar McCracken – Seattle, USA, Nadia Rahim - Sharjah, UAE and Tristen Mcgowan – Montreal, CA, each holding master's degree and Phoebe Spears – Manchester, UK and Landon Huber Melbourne, Australia, who have a bachelor's degree. All these students have received special certificates along with a congratulatory letter signed by the Dean.
"The top 5 winners have been highly recommended to the partner employers of MUST, who are among the leading companies worldwide. The winners are also entitled to a well-deserved 75% scholarship on the next study program ranging from certificates, diplomas and degrees that they enroll for," said Reeves.
The University is widely known to encourage students to develop and study at their own pace. The awards would further encourage students to progress through their study programs, ensuring that they are constantly challenged to outperform fellow students and display outstanding academic abilities to be winners. While rendering these awards, the emphasis has been laid on enriching and extending students' achievements and performance.
About MUST University
MUST University is the largest online university, offering more than 1,100 self-paced and self-study degree, diploma and certificate programs from 16 specialized schools and 71 different majors. Experienced faculty, global locations, academic affiliates, corporate partners and career center all come under MUST's roof to offer peerless academic experience. MUST University surpasses both traditional and the online institutions in terms of ease & flexibility, affordability, quickness, and quality of education, with innovative and easy-to-use features like mobile classroom, 24/7 consultants, credit transfer facility, scholarship programs, etc.