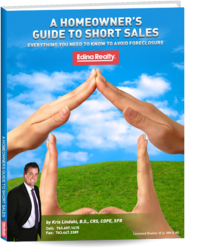 My goal is to get everyone to a level of understanding to where they are comfortable with going ahead with the short sale process
Woodbury, MN (PRWEB) December 26, 2012
The experienced Edina Realty Agent Kris Lindahl held a short sale seminar in Woodbury, MN on Tuesday afternoon. The seminar covered several short sale resources and strategies that are available to the general public. Included in the demonstration were the three short sale calculators, the soon-to-be revealed down payment calculator, a helpful YouTube video series, and a recently published eBook.
Lindahl explained at the seminar that the first crucial step to the process is finding an experienced agent. Without the best tools and resources available the process can get long and difficult. "With me as your agent,"Lindahl said, and continued,"there is no doubt that the process will run smoothly."
Lindahl also showed attendees how to access said resources. "My goal is to get everyone to a level of understanding to where they are comfortable with going ahead with the short sale process," Kris Lindahl said after the seminar. The seminar was very well attended and was just one of several recent seminars and meetings that are part of a larger campaign put on by Kris Lindahl and his team of hard working, full-time Edina Realty realtors.
"Because so many of these seminars are packed to capacity we will continue to schedule more of them," Kris Lindahl said. Kris received the Chairman's Award from Edina Realty this year for excellence in sales and sales volume. He credits his success to hard work and a technological expertise that's labeled him an Internet Marketing Specialist.
Call Kris and Kris Lindahl Team at (763) 607-1415. Download a complimentary copy of "A Homeowner's Guide To Short Sales" and visit the Minnesota Short Sale Calculator website to check eligibility. Also visit the Kris Lindahl real estate website for more information.