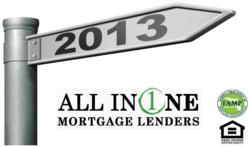 All In One is ready for 2013, but is 2013 ready for All In One?
Miami, FL (PRWEB) December 28, 2012
As All In One Mortgage Lenders closes the books for 2012 they haven't lost sight of the upcoming year, 2013. AIO is looking to break records set in 2012.
AIO is a business but more importantly a family, and CEO, Eddy Fernandez reflects those ideas. By offering competitive compensation plans and benefit programs not only does he look to keep the family happy but also to continue to recruit and expand. With visions to open a new branch office in Broward County, "The sky is the limit as to what we can achieve, as we continue to serve our community," says Mr. Fernandez. The third branch will be an addition to the corporate and a supplemental branch office.
AIO wants to break their record year by at least a margin of fifty percent. This includes revenues and profits. Not only will they be adding a third office, they will also be adding to their long list of already available programs. Programs like the 203k and the HomePath Renovation. The Section 203(k) program is a primary program for the rehabilitation and repair of single family properties. HomePath Renovation Mortgage allows a buyer to purchase a property that requires light to moderate renovation. With these additional programs, AIO will keep their programs abundant.
AIO has big dreams but even better employees and a supportive community to help them achieve them. May you dream big and achieve even bigger.
Happy New Year from the All In One Mortgage Lenders Team!