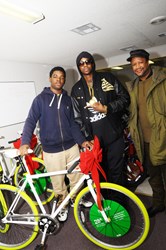 Atlanta, GA (PRWEB) December 26, 2012
Grammy nominated rapper Tauheed "2Chainz" Epps and rolling out urban style weekly distributed bicycles, canned goods, gifts and footwear to dozens of metro Atlanta fathers and their children for the Christmas holiday.
"We are happy to partner with 2Chainz and his TRU Foundation this year to make Christmas a little bit brighter for these families," said Munson Steed, publisher of rolling out and CEO of Steed Media Group. "This is our 14th year giving back to the community for the holidays."
The dads receiving bikes and gifts for their children participated in the City of Atlanta's Community Court sponsored program Empowering Men...Strengthening Families/Toys from Daddy Workshop, a program aimed at re-engaging fathers in the lives of their children. The fathers are either unemployed or underemployed and have come through the justice system and were recommended by various local agencies. The event was hosted on Christmas Eve at LDM Ministries on Moreland Drive.
"This is my third year giving bikes away in the community and this year, we are partnered with rolling out and the City of Atlanta to continue the tradition," said 2Chainz.
The rapper spent time with the families taking pictures, handing out the gifts and encouraging the men with his personal story of success and perseverance highlighting the commonalities he shared with them.
ABOUT rolling out MAGAZINE/MEDIA
Rolling out, the nation's largest free urban weekly, is a digital and print magazine that focuses on the black experience in response to entertainment, politics, fashion, culture, sports and lifestyle points of interest. Headquartered in Atlanta, rolling out is positioned as the voice for the African American experience, using its newspaper as a platform in the marketplace to express urgency for education reform, and to document entrepreneurial endeavors and other relevant issues in the Diaspora. For information on rolling out, please log on to http://www.rollingout.com.