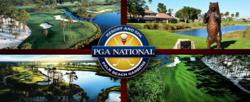 A standout in the heart of Palm Beach Gardens, PGA National now offers themed suites among its 379 rooms.
JUPITER, Fla. (PRWEB) December 27, 2012
The 34 subdivisions that comprise PGA National received a boost in property value in 2012, as the famous resort unveiled to the public its newly renovated and modernly designed suites.
Owners of the Palm Beach Gardens homes in the community, as well as guests seeking golf-centric vacations, are sure to appreciate the exciting upgrades, which are part of the property's six-year, $100 million makeover.
A standout in the heart of Palm Beach Gardens, PGA National now offers themed suites among its 379 rooms. All feature stylishly chic bedding, clean and simple furnishings, art-deco floor, wall and window treatments, and enviable amenities. Amenities include docking stations for iPods, flat-screen televisions, signature views of the golf course and impeccable room service. Among the themed suites are Media Suites, Spa Suites and Presidential Suites.
The creative minds at PGA National designed the Media Suites as a respite for relaxation, high-technology-style. Media Suites come equipped with a trio of high-definition LCD screens, a comfortable reclining sofa that wraps around the living-room area and a fourth TV in the bedroom. The 450-square-foot rooms have private balconies overlooking the pool or the garden and are on the third and fourth floors of the resort.
The Spa Suites evoke a sense of serenity and peace from the threshold. Upon entering the room, guests will see a low-profile king-size bed enveloped in leather, a capacious tub meant for soaking and a private spa area with a message lounger hidden behind a drape of silver beads. The rooms measure 429 square feet and are on the first and second floors.
The Presidential Suites offer the utmost in luxury hotel accommodations and have secluded master bedrooms, two separate balconies and sweeping views of the 18th hole of The Champion course. Other room highlights include an eight-seat dining-room table, a full-size refrigerator, a convenient wet bar and more than 1,400 square feet.
Joel Paige, PGA National's vice president and managing director, said CBT Architects couldn't have done a better job of creating atmospheres and environments in each room that resonate with guests.
Other rooms available at PGA National are the "Bridal Spa" suite, whose appointments include champagne-tone colors, wool carpet, limestone walls and romantic décor. Junior Suites, which have a handy pull-out sofa for an extra guest, Legends Suites, which peer out over the driving range of The Fazio course, and Club Cottages, which are quaint little villas in an off-the-beaten-path location, round out the Palm Beach Gardens real estate.
For information, call Waterfront Properties and Club Communities at 561-746-7272.