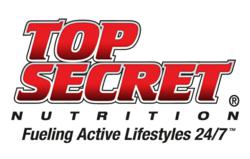 Top Secret Nutrition is Bodybuilding.com's supplement company of the month.
Miramar, Florida (PRWEB) December 28, 2012
Top Secret Nutrition has grown rapidly since its inception on January 1, 2011. The company prides itself on innovation, the quality of its products and the relationships it has built with its retailers, consumers, suppliers, employees and all other stakeholder groups. It is with great pride that Top Secret Nutrition announces the recognition it just received from Bodybuilding.com, one of the most successful and respected supplement retailers in the world. Bodybuilding.com is recognized as "the gold standard" when it comes to finding out what is new, what is best, and what is relevant in the nutritional supplements market.
"Supplement companies start up for myriad reasons. Sometimes it's a former pro with a niche in want of expansion and other companies stomp a foot in the door because they found a door and happened to have a big foot. Top Secret Nutrition follows the second course. It saw a void in the industry and sought to fill it. The company doesn't pigeonhole itself though. It is expanding like the muscles of a well-disciplined weightlifter. Tom Richardson and his crew are just getting started. You don't have to wait to see how this company advances. It's happening already, and that's no secret. That's why we congratulate Top Secret Nutrition as the December Supplement Company of the Month!" Bodybuilding.com.
For the complete article please visit: http://www.bodybuilding.com/fun/supplement-company-of-the-month-top-secret-nutrition.html
About Bodybuilding.com:
Bodybuilding.com is much more than just an online retailer. Its slogan "Information, Motivation, Supplementation" begins to tell the story. Bodybuilding.com is the world's number one online supplement store, offering over 500 brands to 10 million customers. Bodybuilding.com is a true "one-stop shop" for health, fitness and wellness. Please visit their site http://www.bodybuilding.com for a completely new experience in online shopping.
About Top Secret Nutrition:
Top Secret Nutrition is a developer and marketer of high-quality nutritional supplements with the purpose of "Fueling Active Life Styles 24/7" and is considered a leader in sports nutrition, general heath and weight management supplementation. The company currently has over 40 products spanning across the three supplementation segments. These products are widely available in the United States at some of the most relevant retailers such as Bodybuilding.com, GNC, Vitamin Shoppe, and Vitamin World. The products are also distributed to a wide network of retailers by Europa Sports, Select Nutrition Distributors, and the Chiropractor's Buying Group. Top Secret Nutrition's products are increasingly available in international markets.
Top Secret Nutrition is based in Miramar, Florida. All of its products are manufactured in the United States using Good Manufacturer Practices (GMP) certified labs. For more information or to schedule an interview, please contact Tom Richardson at (954) 496-9600 or tom(at)topsecretnutrition(dot)com.