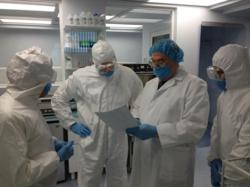 Working to provide the best protocol available for patients stem cell treatments
(PRWEB) December 27, 2012
World Stem Cells, LLC offers advanced stem cell treatments for qualified patients at their facilities World Stem Cells Clinic in Cancun. Their newly constructed state-of-the art (cGTP)laboratory at the Tulum Trade Center in Cancun, utilizes multiple tools and equipment to assess stem cell counts and viability, along with Cytometry analysis, sorting, cell expansion and cryo.
World Stem Cells Clinic's research has developed the best protocols to maximize patients benefit from stem cell treatments, operating under the stringent guidelines as established by The International Cellular Medical Society (ICMS) and the US Federal Drug Administration's Good Tissue Practice (cGTP) regulations for pharmaceutical, biologics and clinical laboratories. World Stem Cells Clinic's strict adherence to these established guidelines and policies guarantees the highest quality of clinical care and stem cell treatment safety for you. The patients are enrolled in a United States open registry to track their changes independently, for up to 20 years.
The staff physicians at World Stem Cells Clinic are all board certified, in their field with years of experience. Dr. Sylvia Abblitt is a Board Certified Hematologist & Oncologist, her practice began in 1984 and is a member of the ICMS ( International Cellular Medical Society), with 20+ years in treating multiple types of diseases with stem cells. Dr. Alan Kadish both Allopathic and Naturopathic with 26 years as a primary care provider and has been an active participant in the Defeat Autism Now movement since the 1990's. Dr. Alan Kadish Continues yearly education, far exceeding the licensure requirements. Dr. Ceballos with 17+ years and receiving the Robins award in 1996 during his residency, then doing his internship, in pediatrics, at the General Hospital in Chetumal. Dr. Ceballos is looking forward to the potentials of the disease modification available through the use of stem cell therapy and participating in our research with his firm background in mathematics and statistics bringing a well rounded approach to disease evaluation to World Stem Cells Clinic's team. Established and knowledgeable the combined expertise of World Stem Cells Clinic's multiple specialists, allows for unique insights and protocol designs.
World Stem Cells Clinic treatment approach includes stimulation, prior to collection, processing and expansion of the cell along with the use of growth factors, together with an integrated medical approach. This maximizes the growth and implantation potentials yielding optimized potentials of making changes in your disease.
World Stem Cells Clinic does not perform one or two day treatments as it would not be medically sound and could not provide the benefits or safety that World Stem Cells Clinic treatment schedule gives (please do not be fooled). The patient's stem cell treatment at World Stem Cells Clinic takes 5 days to complete as their treatments are comprehensive and designed to maximize the benefits and safety derived from the process.
World Stem Cells, LLC efforts is making positive changes in their patients and family's lives and it is hoped that their research, team approach and the individual designed treatment protocols will continue to make a difference in the lives of their patients and their families.