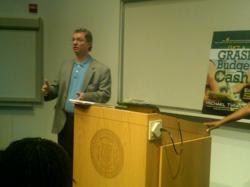 Teaching Financial Literacy is our Passion!
Clarkston, MI (PRWEB) December 27, 2012
Today Kastler Consulting Group announces a strategic financial service offering to help employers educate and provide financial wellness tools to their employees. The HR Financial Planning service offering is Kastler's most recent entre to helping individuals of all demographics to achieve financial literacy and financial wellness. Recently Kastler has announced budgeting coach services, the "Personal CFO," and the "Family Financial Solution Series." The new HR Financial Planning service now goes one step further and offers employers the opportunity to provide the service as a benefit to the employee.
With reduced retirement and compensation packages to remain globally competitive, todays' employers are challenged to attract and retain top talent. The HR Financial Planning service is a much lower cost alternative that employers can deploy to help bridge the gap and provide the financial education and tools needed for employees to better prepare for their own retirement.
Mike Kastler, Founder of Kastler Consulting Group, puts it in this perspective: "We all need to do a better job at understanding and being proactive with our finances, especially long-term retirement planning. This offering gives employers the opportunity to provide the service to the employee as a benefit."
Kastler says any size of the company can benefit from providing their employees such a program, regardless of the type of retirement package already in place, if any. The HR Personal Finance service offering is applicable even to large companies with defined pensions or small companies without any retirement or 401k plan. Everyone working from day cares to large enterprises can benefit from the knowledge gained and the financial tools provided.
Kastler focuses on the total family financial picture, including children from ages of 3 and up. By age group, his "Family Series" financial tools help parents teach kids while they're learning about their own financial planning and retirement planning. "It's truly a unique and eye-opening learning experience for the entire family," offers Kastler, "your financial perspective will be affected permanently."
Kastler's experience in personal finance coaching services, cash-flow planning software, and thought leadership with do-it-yourself tools, may be just the perfect solution for employers wanting to help employees navigate through difficult financial times.
Says Kastler, "With our existing tools and services combined with the reach provided by employers, no one that needs to have this type of education should be left untouched. Our goal is to get Americans financially literate and responsible for their financial future."
About Kastler Consulting Group
Kastler Consulting Group, LLC is a Michigan-based company with a mission of "Building Stronger Individuals, Communities and Businesses," through financial literacy and financial wellness tools and services.
Michael T. Kastler is the founder, a Budgeting Coach, developer of the Family Financial Solution Series, and author of a personal finance book, "Get a G.R.A.S.P. on Your Budget and Your Cash." His budgeting money tips blog that helps individuals become financially literate, debt free and meet their financial goals can be found at http://www.budgetingmoneytips.com