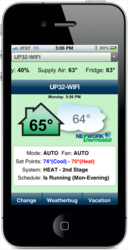 Control all of your thermostats directly from your iPhone.
Grapevine, TX (PRWEB) December 31, 2012
Network Thermostat and Remote Thermostat introduce the official iOS app for controlling Network Thermostat's Net/X Wi-Fi and Ethernet communicating thermostats: "The world's most flexible Internet thermostat platforms" and winner of the WFX 2012 Best HVAC Product award.
With the iPhone app the end user can control an almost limitless number of thermostats anywhere in the home -- or anywhere in the world. Heating, air conditioning, fan modes, vacation schedules, override programmed schedules and more...
Because the Net/X Wi-Fi units and IP units are LAN-connected thermostats, secure connection and control can occur from anywhere inside the home or business, and connection from the Internet if you're not at the thermostat's location. In addition to the app, controlling multiple thermostats is as easy as controlling one. Users have multiple options of using the free Internet-based Net/X™ Remote Device login tool, free Net/X™ Device Explorer tool for on-site LANs (both tools will list all of the users' thermostats), the free Enterprise-Class Net/X Command Center software for drag-and-drop scheduling and control of multiple thermostats.
The Net/X thermostats have universal equipment control for conventional gas/electric, heat pump (including dual fuel), electric, and hydronic heat systems. The thermostats engage both residential and commercial features, including Smart Schedule Recovery™ which allows intelligent temperature recovery, Efficient Equipment Restart™ which efficiently staggers scheduled start times to eliminate multiple units starting at once, adjustable override time and min/max setpoints, fan recirculation, vacation scheduling, keypad lockout, and many more powerful features.
Availability
iPhone App - This App is available immediately at the Apple App Store.
Net/X Wi-Fi Thermostats - The entire line of Net/X Wi-Fi thermostats is available through an ever-growing network of online retailers, HVAC distributors and contractors. Detailed information on this product, and NetworkThermostat's industry leading network solutions can be found on the web at: http://www.networkthermostat.com, http://www.facebook.com/networkthermostat, telephone: 866-563-0711