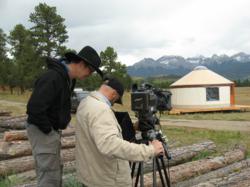 "I knew what a Yurt was but when I saw one fully installed and what you can do with the interior I thought this is a 5-star accommodation." --Francois Senecal-Tremblay, Director of "How It's Made"
Montrose, Colorado (PRWEB) December 27, 2012
Colorado Yurt Company is pleased to announce that it's iconic yurts will be featured as the 1000th product on the hit television series, How It's Made.
The Science Channel's How It's Made crew visited Montrose and Ridgway, Colorado late in 2011 and filmed two segments on the company's yurt and tipi structures, detailing all aspects of the the Colorado Yurt Company's process--from design and development to employee camaraderie to pitching the structures in the shadows of 14,150 ft Mount Sneffels.
The first episode, on Tipis, aired December 6th, followed by a second episode about Yurts, this Sunday, December 30th. For local listings, please visit http://science.discovery.com/tv/how-its-made.
Dan Kigar, Co-Founder and owner of Colorado Yurt Company expressed his excitement, "As a craftsmen and product developer, it's an honor to be showcased on How It's Made. To have them come and film our company, our products and our employees--and to have so much fun in the process--was pure joy for us."
Francois Senecal-Tremblay, Director of "How It's Made" had this to say, "I knew what a Yurt was but when I saw one fully installed and what you can do with the interior I thought this is a 5-star accommodation. I have been in way too many hotels and motels that could learn a thing or two from the incredible interior finishing you can do to a Colorardo Yurt. And I knew that maybe one day my next chalet could be a Yurt! Fast to install, relatively cheap compared to other alternatives and real nice outside and inside."
From the Coachella Music Festival to the highest mountain resorts, the Colorado Yurt Company handcrafts dwellings to the highest specifications. The company has recently been featured on HGTV's Design Star, Oprah's final interview (at Ralph Lauren's Ranch), and the major motion picture, Wanderlust.
About Colorado Yurt Company
Since 1976, the Colorado Yurt Company has been making and selling quality yurts, tipis and canvas wall tents. Located in Montrose, Colorado, Colorado Yurt Company yurts are engineered and designed to meet the structural requirements of the International Building Code. Our products range from 30-foot diameter yurts to 12-foot diameter tipis to custom sized outfitter and platform tents--from 100 to 700 square feet---and can be outfitted for nearly any use. For more information visit http://www.coloradoyurt.com or give us a call at 800-288-3190.