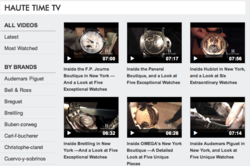 This type of content gives buyers and connoisseurs access to watches that are kept under wraps, and showcases each brand's pride and attention to detail in not only their pieces but their stores. —Haute Time Curator Seth Semilof
New York, NY (PRWEB) December 26, 2012
Haute Time, the ultimate resource for luxury timepiece aficionados, is proud to announce the launch of its new video series. This is the newest addition to an already buzzing video site, and the series features in-depth looks inside luxury timepiece flagship boutiques in New York.
Haute Living Co-Publisher and Haute Time Curator Seth Semilof was given exclusive tours of these Manhattan stores where brand managers gave him access to dozens of limited edition and one-of-a-kind timepieces. "This type of content gives buyers and connoisseurs access to watches that are kept under wraps, and showcases each brand's pride and attention to detail in not only their pieces but their stores," he says.
So far, Haute Time has videos, which include visits to:
Audemars Piguet: Click Here for Video
OMEGA: Click Here for Video
Breitling: Click Here for Video
Other videos include Hublot, F.P. Journe, and Panerai.
About the Haute Time
HauteTime.com is the premier go-to site for information on all luxury watch brands. This interactive website features exclusive content including video interviews with CEOs, and one-on-one guided tours through factories, showrooms and boutiques. Expert contributors are on the ground at preeminent exhibitions in Geneva and Basel to reveal and critique the newest news and offering from luxury timepiece manufacturers.
In 2013, Haute Time will launch its first print issue for the luxury watch industry and expanding its reach through 50,000 semiannual published issues reaching upscale readers worldwide.
About the Haute Living Brand
Haute Living Magazine is a national luxury lifestyle magazine published in four markets—New York, Miami, Los Angeles, and San Francisco. Haute Living Magazine features the top entrepreneurs, businesspeople, and notables in each market. Haute Living Magazine also highlights the best in luxury consumer goods, culinary hot spots and events. Haute Living recently redesigned its website and re-launched its Haute Time and Haute 100 websites for state-of-the-art experiences.
For inquiries, please contact:
Renee Lucas
Editor
e: rlucas(at)hauteliving(dot)com