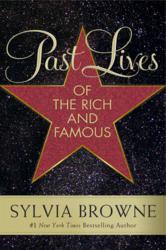 More than 50 celebrities are profiled in fascinating detail
San Francisco, CA (PRWEB) December 26, 2012
Ever been introduced to someone for the first time yet had an overwhelming sense of of having met previously? Ever visited a new city or country yet felt completely at home? How does a child who has never taken a lesson suddenly begin playing the piano with the skill of a virtuoso?
Ask those questions of scientists, theologians, psychologists and other experts on human behavior and one will likely hear the word "coincidence." World renowned psychic Sylvia Browne has a different explanation: those are echoes from past lives. In her new book, PAST LIVES OF THE RICH AND FAMOUS (HarperOne; December 25, 2012), Sylvia Browne, through her Spirit Guide Francine, shares the accomplishments, challenges, and synergies of the past life incarnations of more than 50 rich and famous icons we've known and loved. Most of them, and most of us, have lived anywhere from fourteen to fifty-some past lives, not all of which are directly relevant to their most recent and famous incarnations.
While Sylvia has written previously about what transpires after death, PAST LIVES OF THE RICH AND FAMOUS addresses what happens before each most recent incarnation. Each lifetime is an opportunity for our spirit to learn important lessons, and through hypnosis and past-life regression, we can heal old wounds and spiritual challenges by recalling and revealing the source of many seemingly inexplicable physical, mental and emotional challenges we've had over numerous lifetimes. In her latest book, Sylvia and Francine provide an intimate and often surprising look at the prior lifetimes of famous figures we are fascinated by. Readers will come to see their favorite celebrities in a whole new light.
Browne reveals far more than what celebrities were doing in their past lives; she makes a spiritual connection between past and current lifetimes, and reveals whether this is a celebrity's final life or if he or she will continue the journey into future lives. More than fifty celebrities are profiled in fascinating detail, including:
Elizabeth Taylor, Michael Jackson, Mother Teresa, John Wayne, Donna Reed, John Belushi, Kurt Cobain, Martin Luther King, Jr., Gilda Radner, Marlon Brando, Humphrey Bogart, Amelia Earhart, James Stewart, Gianni Versace, Lana Turner, Lucille Ball, Jack Kevorkian, Marilyn Monroe, Vincent Price, Anwar Sadat, Katharine Hepburn, Dean Martin, Farrah Fawcett, Boris Karloff, Coco Chanel, Rita Hayworth, Jimi Hendrix, Betty Ford, Steve McQueen, Grace Kelly, Steve Jobs, Jane Russell, Winston Churchill, Amy Winehouse, Joan Crawford, Bob Hope, Rosemary Clooney, Joseph Campbell, Jack LaLanne, Ingrid Bergman, James Cagney, John Ritter, Karen Carpenter, Peter Sellers, Loretta Young, Montgomery Clift, Bea Arthur, Ed Sullivan, Audrey Hepburn, Ava Gardner, Ted Kennedy, Jack Lemmon, Janis Joplin, Peter Falk, Orson Welles, Judy Garland, Montel Williams*.
About the Author:
Sylvia Browne is a world renowned spiritual teacher, psychic, author, lecturer and researcher in the field of parapsychology, and #1 New York Times bestselling author. Sylvia is well known for her genuine, down-to-earth style and personality. She lectures, teaches, and counsels people from all over the world. Since manifesting her psychic ability at the age of three in her home town of Kansas City, MO, she has helped thousands of people gain control of their lives, live more happily, understand the meaning of life, and to find God in their own unique way. More at http://www.sylviabrowne.com
PAST LIVES OF THE RICH AND FAMOUS
By Sylvia Browne
HarperOne
On-sale December 26, 2012
ISBN: 9780061966811 $25.99 Hardcover
Also Available as an eBook