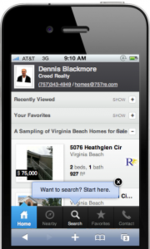 Virginia Beach, Va (PRWEB) December 27, 2012
The new Virginia Beach and Hampton Roads Real Estate Mobile Search Engine has now launched.
With this new mobile real estate search engine potential buyers can find information about any property in Virginia Beach and Hampton Roads while on the go, sitting in the office, or just having coffee at Starbucks.
Here are some of the features of the Virginia Beach and Hampton Roads Real Estate mobile search engine:

Offer on-the-go mobile idx access for both existing and new real estate clients
Oversized tabs at the bottom of every page and clear navigation icons make mobile idx searching easy and intuitive
Use the phone's built-in GPS to see a map of listings within a given radius of buyer's current location
Search by street name, number, or full street address and see instant results when typing
See prices and alternate listings when viewing idx listings in any neighborhood
With a single click, users can save any mls listing to the favorites tab for reference later
Type in a starting street address and search for homes within a radius of anywhere from 1/4 to 20 miles
Mobile idx features make it easy for clients to carry around lists of their mls listings
Includes easy options for buyers to contact Dennis Blackmore as soon as they see a listing they like or have a question
Built specifically for smart phones, our Virginia Beach/Hampton Roads real estate mobile idx search is designed for use with iPads, iPods, iPhones, and the latest Android and Blackberry devices.
Have a Mobile Device? Give it a try, click here
Dennis Blackmore is a REALTOR®/Agent Owner with Creed Virginia Beach Realty serving all of Hampton Roads.