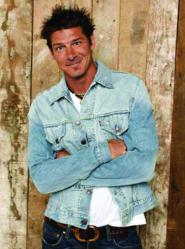 Salt Lake City, UT (PRWEB) December 27, 2012
The Salt Lake Home Show is around the corner, ringing in the new year with a line-up of famous guests, local experts, and 200 of Utah's home improvement and design companies. The Home Show opens its doors on January 4 and continues until January 6 at the South Towne Expo Center. Throughout the weekend, Home Show guests will have the opportunity to attend a variety of informative seminars ranging from home design to healthy cooking.
National TV-Celebrity Guest Speakers
Ty Pennington: Saturday, Jan. 5 at 11 a.m.
Ty Pennington, famous face of TLC's Trading Spaces and ABC's Extreme Makeover: Home Edition, is an expert in building homes and mending hearts. As an experienced carpenter, Pennington knows how to transform worn out rooms in a home into spaces that are beyond extraordinary. He is determined to use his talents to give back to communities and families in need. Pennington will share design tips for home improvement and secrets about his shows.
Chris Crary: Saturday, Jan. 5 at noon and 5 p.m.
Chris Crary, fan favorite contestant on Bravo TV's Top Chef, understands how to meld distinct flavors to create a delicious twist on traditional fare. As Chef de Cuisine at the Whist restaurant in Santa Monica, Crary connects to his guests through the shared enjoyment of food. His mission is to promote the social aspect of food in a healthier way. At the Home Show, Crary will demonstrate an updated and healthy version of a classic dish and discuss life as a chef. Also, catch Crary lend his expertise to the Chili Cook Off on Saturday at 2 p.m.
Mike Baird: Saturday, Jan. 5 at 1:30 p.m. and 3:30 p.m.
Mike Baird of Spike's Flip Men is a renovating, staging, and house-flipping mastermind. With his business partner, Baird turns foreclosed properties into profit by upgrading and preparing them for purchase. Baird is a Utah-based real estate investor who understands the Utah market. Home Show guests will learn the "how-tos" when it comes to staging a home or arranging to buy a new one.
Local Guests
Opal Design Group: Fri., Jan. 4 at 5 p.m. Sat., Jan. 5 at 6:30 p.m., and Sun., Jan. 6 at 2 p.m.
Jen Adair and Janna Romney of Opal Design Group are an innovative team of designers with natural talent and creative ideas for home design. Adair and Romney will explain tips and tricks for improving the look one's rooms and will also be at the Ask a Designer booth throughout the weekend to provide personalized design advice to Home Show guests.
Clear & SIMPLE: Fri., Jan. 4 at 4 p.m and 6 p.m., Sat., Jan. 5 at 2:30 and 5:30 p.m., Sun., Jan. 6 at 1 p.m.
Marla Dee of Clear & SIMPLE restores order to people's lives by helping them learn the art of organization. Dee understands how overwhelming disorganization can feel, so she plans on discussing ways to start small in the workspace at home.
The Salt Lake Home Show
Where:
South Towne Expo Center
9575 S. State Street
Sandy, UT 84070
When:
Friday, Jan. 4, 2 p.m.– 9 p.m.
Saturday, Jan. 5, 10 a.m. – 9 p.m.
Sunday, Jan. 6, 11 a.m. – 6 p.m.
Admission:
Adults $10
Seniors $7
Children 12 and under free
Friday, January 4, 2013 Hero Day – Military, Fire, and Police admitted free
(1 per valid ID)
For discount tickets and more information about the Salt Lake Home Show, please visit http://www.saltlakehomeshow.com.