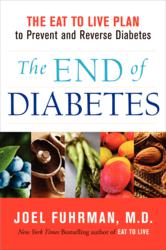 Diabetes, heart disease, and high blood pressure are not the inevitable consequences of aging
San Francisco, CA (PRWEB) December 26, 2012
According to new Centers for Disease Control estimates, nearly 26 million Americans (11.3% of adults) have diabetes today, and as many as 80 million (35% of adults) qualify as having prediabetes. These staggering numbers have tripled in the past three decades, and if the trend continues, one in three American adults could have diabetes by 2050.
With the disease so widespread, a proactive approach to our health is essential. The End of Diabetes: The Eat to Live Plan to Prevent and Reverse Diabetes (HarperOne; January 2013) by Joel Fuhrman, M.D., board certified medical doctor and New York Times bestselling author, has been tested by thousands and documented in medical studies to reverse diabetes, high blood pressure, and heart disease, and result in significant weight loss.
Dr. Fuhrman's new book reveals a radical idea and a simple plan: prevent and recover completely from diabetes through nutrition. While diabetics typically rely on glucose monitoring, HbA1C measurements, regular physician visits, and medication adjustments to "control" the disease, Dr. Fuhrman says this approach is all wrong, and focusing only on the numbers and carbohydrate intake could worsen diabetes. In addition, the majority of medications used to lower blood sugar place more stress on the already failing pancreas, and medications used to control blood sugar (such as insulin) cause weight gain. The dangerous combination of pushing the pancreas to produce insulin and gaining more weight with medication results in the need for additional medication as one becomes increasingly diabetic. This common approach fails to adequately treat the disease and increases risk of a heart attack.
Many physicians and dieticians have all but given up on promoting weight loss as the primary treatment for diabetics in favor of medication, Dr. Fuhrman's plan focuses on specific changes in diet. The nutritional plan he has prescribed and has been successful for more than 10,000 diabetic patients over the past 20 years is based on a simple concept: Health (H) = Nutrients (N) / Calories (C).
A nutrient-rich plan of green vegetables, berries, beans, mushrooms, onions, seeds and other natural foods is the key to achieving optimal health and weight. This is what Dr. Fuhrman refers to as being a "nutritarian" -- eating more foods with a high nutrient density and fewer foods with a low nutrient density, health dramatically improves and diabetes melts away. A nutrient dense diet means the body ages slower, the natural self-healing and self-repairing ability of the body takes over, and diseases disappear.
Dr. Fuhrman asserts a life-altering and hopeful message in The End of Diabetes: diabetes, heart disease, and high blood pressure are not the inevitable consequence of aging, and a lifetime of prescription medication can be avoided, and even reversed. The human body is designed for wellness, and when fueled by nutrient dense foods in the right proportion the body reverts to a miraculous, self-healing machine. Best of all, this plan is simple and effective: the food tastes great, and good health is the reward.
About the Author:
Joel Fuhrman M.D. is a board-certified family physician who specializes in preventing and reversing disease through nutritional and natural methods. He is the author of numerous books, including "Eat to Live: The Amazing Nutrient-Rich Program for Fast and Sustained Weight Loss" and "Super Immunity: The Essential Nutrition Guide for Boosting Your Body's Defenses to Live Longer, Stronger, and Disease Free". Several of Dr. Fuhrman's books have been made into the PBS Specials "3 Steps to Incredible Health" and "The Immunity Solution". He is a graduate of the University of Pennsylvania School of Medicine and a member of the Board of Directors of the American College of Lifestyle Medicine and the Director of Research of the Nutritional Research Project of the National Health Association. Dr. Fuhrman also serves on the Science Advisory Board of Whole Foods Market.
The End of Diabetes
The Eat to Live Plan to Prevent and Reverse Diabetes
By Joel Fuhrman, M.D.
January 2013; Hardcover; ISBN: 9780062219978

Also Available as an eBook *