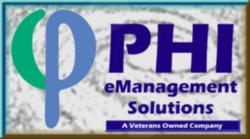 Pets are often overlooked and the unfortunate victims in a disaster
Newmarket, NH (PRWEB) December 27, 2012
The PHI Management Solutions team interviewed April Begosh, the owner of Healthy Pets New Hampshire. April specializes in pet first aid and emergency preparedness. Her company conducts training for First Responders and pet owners, and also provides supplies and other services.
Although the initial focus of the interview was on pet preparedness, the first segment started off with a discussion of the senseless tragedy at Sandy Hook Elementary School in Newtown, CT. Jim Moody, PHI's Vice President of Emergency Preparedness and Training, praised both the Staff and First Responders for their quick action that protected the students and prevented an even greater loss of life. Moody went on to discuss the importance of not just having an emergency plan but rehearsing it as well.
He also commented how important it is to get external participation in both the planning and rehearsal process. Outsiders, he said, are able to see the gaps in the plan that the insiders tend to overlook. Moody also mentioned that one of PHI's core competencies is to facilitate the emergency planning process, conduct training, and evaluate drills and rehearsals.
Ms. Begosh joined in the conversation by commenting how Therapy Dogs were being used to help the survivors recover from the intense trauma of the event. The dogs always love unconditionally and never judge the people who they are helping. This set the stage for a conversation about the importance of planning for pets during an emergency.
Pets, she said, are often overlooked and the unfortunate victims in a disaster. In many cases, the failure of emergency planners to accommodate pets results in human casualties as well. Begosh explained that some populations, especially the elderly, will not evacuate their homes if they cannot take their pets with them. So they stay behind and remain in danger. The reason why this happens is because the State in most cases regards pets as property. However, a pet owner, especially the elderly, regards them as companions and family members.
Begosh acknowledged that people will always take priority for evacuation over pets. But she said that there are some things that pet owners can do to help. First, she said, pet owners should have an emergency kit for their pets ready to go; second, have a cage suitable for transporting your pet to the shelter and housing them once they get there; and lastly, know where the pet friendly shelters are located.
In addition, Health Pets New Hampshire has collaborated with PHI Emergency Management to develop a line of emergency preparedness products for pets which include: emergency evacuation kits, first aid kits, and QR coded pet tags. Begosh commented that these tags are a great way to record a pet's critical information for retrieval and is a great compliment to mircrochips and tattoos. The best part, she said, is that the QR codes can be read with any smart phone and does not require any specialized equipment.
Begosh also said that Healthy Pets New Hampshire can facilitate the donation of pet oxygen masks to your local fire department. Just like with people, emergency medical treatment can save a pets life if the equipment is available. For more information on these and other programs, please visit Healthy Pets New Hampshire.
PHI Management Solutions, Emergency Management Division, offers many different home and institutional products for emergency planning. They also have free downloads and information links designed to inform and assist individuals, families, organizations and businesses prepare for emergencies. Our team is composed primarily of veterans with over 90 years of combined service. Each member of the team has proven themselves through combat command and has extensive experience in disaster response and planning. Team members have commanded response forces and/or participated in several disaster responses to include the 2005 crash of a civilian airliner in Afghanistan, Hurricane Katrina 2005, Southwest New Hampshire Flooding in 2005, New Hampshire Statewide flooding in 2006, Epsom, NH tornado response in 2007, the 2008 New England Ice Storm, 2009 Anthrax Response in Durham, NH, the 2010 Wind Storm, Hurricane Irene in 2011, the October 2011 New England Snow Storm and Super Storm Sandy in October 2012.