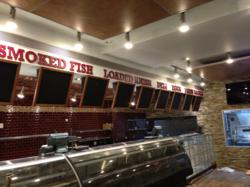 Our goal was to create a look and feel that is unparalleled in the deli world and we feel like we have accomplished that
Long Island NY (PRWEB) December 27, 2012
Long Island Bagel Café will cut the ribbon on their first New York City location. This new upscale deli is located at 125 Fulton Street in the Financial District, a stone's throw away from Wall Street. Serving all of the staple deli items including kosher bagels and chopped salads. LI Bagel Café has also expanded their menu to include loaded knishes, gourmet soups, crepes and more for this location. When you walk in for the first time you'll notice that no expense was spared on the look and feel of the overall interior design.
A little more about LI Bagel Café; their founders opened their first bagel store in Oceanside NY, formally known as "Oceanside's Original 24 Hour Bagel." This store was the first in what has now become the Long Island Bagel Café organization. After Oceanside came Bellmore Bagel Café, Long Beach Bagel Cafe, Glen Cove Bagel Cafe, Nesconset Bagel Café, Merrick Bagel Cafe and Howard Beach Bagel Café, which opened earlier this year. 2013 promises to be another productive year of expansion with an express café on the docket for the first quarter which will be located in Baldwin NY.
Helping LI Bagel Café with all of their signage needs for Fulton Street was Origin Display Group Inc., a leading supplier of indoor, outdoor, and digital menu boards. Included in this project were sixteen custom-made distressed wood menu boards with magnetic graphics, eleven dimensional words for the bulkhead, two custom frames to surround decorative writing on the wall, all relating design work and the installation.
Origin's Vice President of Sales and Marketing, Vic Pereira, talks about the project from start to finish. "When we initially took on this project we thought we were going to be providing the standard stainless steel menu boards that we had done for them in the past. We quickly realized that they wanted to go in another direction for this location. When you go the custom route you always run the risk of playing a game of "whack-a-mole." That wasn't the case with Randy Narod and his team. They were very receptive to our thoughts and suggestions and the end result is a menu system that certainly adds to the already breathtaking interior design."
Michael Tiseo, LI Bagel Café's Chief Financial Officer, explains the working relationship with Origin Displays. "The easy part was selecting Origin to do the work because they have done a number of our stores in the past and there is a high level of comfort that exists. The difficult part was telling them exactly what we wanted. Fortunately they were able to provide a number of prototypes, samples and prints until we were able to zero in on what we wanted. Our goal was to create a look and feel that is unparalleled in the deli world and we feel like we have accomplished that – and this could not have been done without Origin's help."