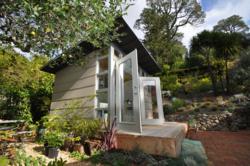 Jason is a perfect fit for Studio Shed. Like us, he believes in thoughtful design solutions where a project is not complete until everyone in the process is ecstatic about the result
Louisville, CO (PRWEB) December 28, 2012
In a move that further expands its long-term design and production capabilities, Studio Shed LLC has announced the appointment of Jason Plumb as its new VP of Product Development. Plumb will lead multiple new design and prefab production programs at Studio Shed's new 10,000 square foot headquarters and production facility in Louisville, CO.
"Jason is a perfect fit for Studio Shed. Like us, he believes in thoughtful design solutions where a project is not complete until everyone in the process is ecstatic about the result," says Jeremy Horgan-Kobelski, co-founder of Studio Shed, a full-service shed design, production and installation company. Studio Shed offers customizable, prefabricated, environmentally-friendly sheds to clients across the country.
Plumb is an award-winning specialist in the outdoor design sector known for his analytic approach and multidisciplinary experience in industrial design, architecture, engineering and environmental design. He comes to Studio Shed following six years as director of design and engineering at Eldorado Wall Company in Boulder, famed builder of custom-designed climbing walls, gyms and solutions. He is a graduate of Ohio State University's Industrial Design Program.
For shed-seekers, Studio Shed's special appeal is their mix of innovative high-end designs with customizable options and affordable pricing. Their single-room structures range from simple unfinished storage models to turnkey residential models, fully-finished, wired and insulated. Garage models and DIY kits are also available.
Studio Shed's pricing starts at $4,800 for a 6-by-12 foot Storage model design that comes with unfinished interior, a steel door and clerestory windows. Pricing for a 10-by-12 foot Storage model starts at $7,200 ($60/sq. ft). Shipping for Storage models starts at $850, installation starts at $900.
Studio Shed also produces Lifestyle models with finished interiors for use as backyard home offices; work spaces for artists, writers and musicians; and as pool houses, home gyms, retreats or guest rooms. Pricing for a 10-by-12 foot Lifestyle model with finished interior starts at $10,750 ($89/sq. ft), plus shipping (starts at $950) and installation (starts at $1,550 for a regional certified Studio Shed installation team).
Shoppers can configure and price models with options online, using Studio Shed's trademark Shed Configurator. The company has teams of professional certified installers available across the U.S., typically erecting a shed in one to four days.