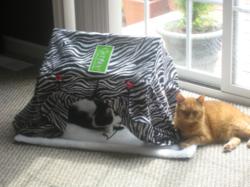 (PRWEB) December 28, 2012
Developing new products in the pet industry can be challenging since the primary focus of many products is to appeal to the pet owners.
The challenge at smoochdoggie.com was to discover traits that cats would respond to first and then to incorporate these discoveries in to a product that would then be developed to appeal to the owners as well.
The initial discovery occurred while observing a small child attempting to hide from the parents in a box while visiting a child learning center. This mimicked a similar behavior observed when watching cats who would try to hide out in a paper grocery bag that ended up on the floor.
A realization that hiding in plain view is a game that cats and small children love to play became a product development idea.
With this idea in mind, the goal was to create something more attractive than a simple paper bag and something far less restrictive.
The flowing open sides do not restrict movement either coming or going which was a direct response to an observation that a cat does not want to feel trapped.
This discovery was like allowing a pet to constantly play under the bed covers, but without having to give up a bed.
In addition, the Gypsee concept gives the pet the ability to see out while remaining concealed. A feature that seems to provide the mystery associated with hide- and- seek play.
Launching a new product in such a competitive environment can be a daunting task, but a commitment to be unique and stay creative is the way to find a niche.
In addition, a decision to make the product in the US would be set this company apart from the mass marketers. This is a design company at heart not a mass marketer.
As a start-up company sharing discoveries with pets and owner alike is a goal worth achieving.
Two styles are available in either Zebra or Hippie Gypsee.
For more information please visit: http://www.smoochdoggie.com