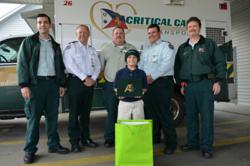 He was very encouraging, the calmest I had ever seen any patient ever be.
(PRWEB) December 26, 2012
Acadian Ambulance has honored nine-year-old Saje Legendre with a Meritorious Service Award for his efforts in helping his family after a car crash.
Acadian Ambulance often gets requests from patients to reunite with medics who helped them in traumatic situations. However, this time, it was the medics who requested to once again meet a very special little patient and honor him. Saje, a sixth grader from New Iberia, remained calm and collected as he helped his family after they were rear-ended in August, and made such an impact on the responding medics that they asked that he be recognized for his efforts.
Medics Troy Phillips, Tim Smith and Trent Boudreaux worked the accident, and when they arrived on scene found Saje correctly and successfully holding the C-spine of his grandmother as police attended to his 16-year-old brother. Saje insisted that the medics take care of his family first before worrying about him. "He was very encouraging, the calmest I had ever seen any patient ever be," said Smith.
To show him their respect and appreciation for his selflessness and bravery, when the medics reunited with Saje they awarded him with the award, some cool Acadian Ambulance swag, and other gifts. He also toured an ambulance while visiting the station. When asked if Saje thought becoming a paramedic could be in his future, the youngster replied, "My options are still open, but it is a good possibility."
Video of the story—including coverage of the award ceremony and interviews with Saje, his family, and the medics—is available here.
Acadian Ambulance is committed to their patients and their communities. They are an emergency and non-emergency medical transportation provider to Louisiana, Texas, and Mississippi.
Since 1971, Acadian has provided the highest level of emergency medical care and transportation possible. In the past decade, the company has expanded to include a diverse suite of services in health, safety, and transportation. Acadian's six divisions are Acadian Ambulance Service, Acadian Monitoring Services, Air Med, Executive Aircraft Charter Service, National EMS Academy and Safety Management Systems.
###