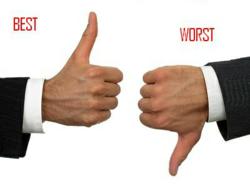 Tempe, AZ (PRWEB) December 26, 2012
In an effort to provide consumers a consolidated resource for assessing the best mattress options, the blog Mattress Inquirer recently posted a revealing consumer opinion study. Consumer Mattress Reviews also announced their support for the findings, as they echo many other recent studies.
The news is likely to prove alarming to the traditional bedding industry, which tends to be heavily vested in innerspring mattresses. According to consumer opinions, less than two-thirds of innerspring mattress owners report satisfaction, much lower than the top four "specialty" mattress categories. Indeed, more and more traditional manufacturers are expanding their lines to include memory foam and latex options as buying habits continue shifting.
In the post titled "Worst & Best Mattress Types of 2012" on Mattress-Inquirer.com, it is revealed that a study of over 16,000 customer reviews indicated the top five mattress types, in order from best-rated to lowest, as:
1) Memory Foam Mattresses - 82%
2) Latex Mattresses - 80%
3) Waterbeds - 79%
4) Air Bed Mattresses - 78%
5) Innerspring Mattresses - 64%
The percentages indicate the proportion of owners who report satisfaction with their bed. Consumer Mattress Reviews supports the finding of this study, as the results match closely with their own research, and that from other large-scale polls of consumer satisfaction.
The Mattress Inquirer article goes on to report their recommendation for memory foam is the Amerisleep line of plant-based memory foam mattresses, which receives customer ratings for comfort and satisfaction well above 90% on their website and third party reviews. This also echoes similar findings from Consumer Mattress Reviews which found Amerisleep to be one the best memory foam options in terms of quality, comfort, price and eco-friendliness.
Consumer-Mattress-Reviews.com aims to make shopping easier by researching and compiling reviews on top mattresses. The website analyzes consumer opinions in addition to manufacturer and retailer qualities to provide outlines of the positive and negative aspects of owning specific beds. Prospective consumers can find an ever-expanding collection of mattress reviews ranging from memory foam to air and more, all designed to offer the facts needed to make informed decisions.