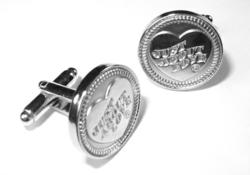 Cufflinks not just for the moment but for a lifetime.
Glenview, Illinois (PRWEB) December 27, 2012
Retailing for just $38.00, ¾ inch round and plated in a deluxe Silvertone non-tarnish finish, this newest cufflink addition to the Just About Love® jewelry collection is perfect for that special man in your life.
"Die-cast in metal in the round, a favorite style out in the marketplace, the exclusive Just About Love® logo is embellished on a modified puff heart design, plus, two intertwining ropes
signifying two hearts blended into one around its perimeter. A welcome gift from a spouse, partner, family member, fiancée or dear friend that shows just how much he's valued in your life….not just for the moment, but for a lifetime." said Marianne Crabtree, Creative Director for Great Ideas Group, Inc.
"These new Classic Cufflinks are the perfect gift idea for Christmas, Special Occasions, Birthdays, Fathers Day, Graduation, Wedding, Military, Sweetest Day, Valentine's Day or just because you want him to know how much you care and value him in your life said Crabtree.
Arrives gift wrapped in a handsome Deluxe Black Leatherette Hinged Jewelry Box, then into a two piece white jewelry box tied nicely together with a ribbon. This feature ensures a wonderful place to store his new Classic Just About Love® Cufflinks.
Great Ideas Group, Inc. also offers many different types of unique fashion jewelry and accessories, including the Keepsake Pocket Heart Love Coins, unique attractive charm bracelets, classic cufflinks, necklaces, brooches, evening bag, porcelain photo frame and special occasion gifts.
To learn more about the Classic Cufflinks, or to browse our selection of unique, quality fashion jewelry and accessories, please visit http://justaboutlove.com/cufflinks.html