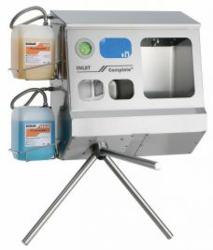 Our bacteria fighting equipment is made to prevent foodborne illness and keep a sanitary work environment," states Jeb Supple of Carometec.
Peosta, Iowa (PRWEB) December 27, 2012
As Oregon Public Officials investigate an outbreak last week of what was believed to be Norovirus, risk of foodborne illness is once again in the news. More than 90 people fell ill following a meeting at the Oregon Zoo. Those attending the private event were members of the Women's Healthcare Associates.
In an article published Tuesday, December 11, 2012, in the Oregonian, Dr. Katrina Hedberg, state epidemiologist at Oregon Public Health is quoted as saying, "About 90 of the 220 people at a Wednesday morning meeting of Women's Healthcare Associates developed gastro-intestinal symptoms. Norovirus is the most likely culprit. We tend to see outbreaks this time of year. This one does seem to be larger than many that we see."
Early indications are that the contamination occurred at the site, most likely caused by an infected food worker. The investigation has revealed that the suspected food is fruit, although it was thoroughly washed prior to serving. Testing is underway to verify that Norovirus was indeed the cause and it is suspected that the contamination occurred in the kitchen where it was prepared. Norovirus is easily transmitted via fecal matter and is highly contagious.
The general public and certainly trained food workers have an awareness of the growing problem with food borne illness and general preventive measures. Unfortunately, the pathogens at the root of the outbreaks are more numerous and can be far more serious than the public may understand.
Automated food handling processes such as hand washing equipment and bacteria fighting equipment could put the food handling industry one step ahead of what seems to be a steadily growing problem. Whether an outbreak of food borne illness occurs though cross contamination or via an infected food worker, automated systems that standardize methods of disinfecting and preventing bacteria from entering a workspace will surely be a necessary ingredient in food handling for the healthy future.
"Contamination and bacteria in food processing environments are very serious issues. They can ruin the reputation of any food processing plant or company with a single blow. Our bacteria fighting equipment is made to prevent foodborne illness and keep a sanitary work environment," states Jeb Supple of Carometec.
The Oregonian also reports that following the outbreak, "The County sent an environmental health inspector to the zoo to investigate. She spent more than three hours checking out the kitchen, examining the hand-washing stations, refrigeration and storage facilities. She also interviewed staff about food handling procedures. The inspector did not see any red flags."
The absence of "red flags" is still greater evidence that prevention, most likely through automated systems, will need to come to the forefront as the food handling industry responds to the growing incidence of foodborne illness.
About Carometec: Serving the world of food sanitation and food safety for over thirty years, Carometec specializes in installing and sales of bacteria fighting equipment. Visit http://www.carometecusa.com for more information.