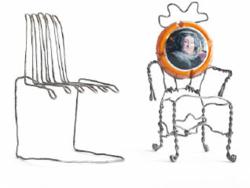 Stamford, CT (PRWEB) December 27, 2012
Design Within Reach, Inc., today announces the reprise of its annual Champagne Chair Contest. To enter this unique design challenge, entrants must create an original miniature chair using only the foil, label, cage and cork from no more than two champagne bottles. A panel of DWR champagne and chair experts will judge the chairs, and three winners will receive a DWR Gift Card.
Conceived at a New Year's Eve party in 2002 by DWR Founder Rob Forbes and his creative guests, who turned their attention to the corks, foil and wire cages and started building miniature chairs as the party wound down, the Champagne Chair Contest was a happy accident that became a company tradition. The basic rules remain unchanged from years past, however, this year, in an effort to minimize the mountains of packaging waste that the contest has previously generated, submissions must be made digitally. To enter, contestants must upload photos of their chairs at http://www.dwr.com/champagnechair and are encouraged to share their creations on Twitter and Instagram using the hashtag #dwrchampagnechair. Submission deadline is 5 p.m. EST on Monday, January 14, 2013.
Entries will be judged by a panel of three champagne and chair experts, including DWR VP of Marketing + Creative Michael Sainato and DWR President and CEO John Edelman. Together they will select 10 finalists, which will then be narrowed down to three winners. The winning entries will be announced online at http://www.dwr.com/champagnechair, on the DWR blog and via Twitter and Facebook on January 28, 2013.
First place will receive a $1,000 DWR Gift Card, second place a $500 DWR Gift Card and third place a $250 DWR Gift Card. All three finalists' chairs will be featured on the DWR home page. "I am thrilled that we are bringing back the Champagne Chair Contest," says DWR President and CEO John Edelman. "Employees have chairs from past contests sprinkled around their desks, and I can't wait to judge this year's batch of talent. It really generates enthusiasm from the community, and we enjoy this opportunity to allow amateur chair designers to get in on the fun."
For official rules and more information on how to enter, visit http://www.dwr.com/champagnechair.
Design Within Reach, Inc., founded in 1998 and headquartered in Stamford, Conn., is the source for the best in authentic modern design. The company markets and sells its furniture and accessories to both residential and trade customers through its retail Studios in North America, http://www.dwr.com and its Connecticut-based phone sales team at 1.800.944.2233. For inquiries regarding DWR Contract, visit http://www.dwrcontract.com.
Contact:
PR Manager
Kim Phillips
kphillips(at)dwr(dot)com
203.614.0619