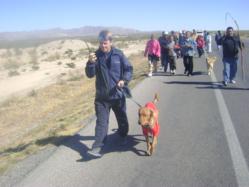 The first question everyone likes to ask is: why on earth would anyone want to walk over 1,000 miles between Ciudad Juárez and Tijuana?
National City, CA (PRWEB) December 27, 2012
International Community Foundation supporter Tom Fremantle, Fellow at the Royal Geographical Society in London, arrives in the US Saturday morning, December 29th.
Tom is finalizing his two ½ month journey walking an over 1,000 mile stretch of the U.S-Mexico border from Cuidad Juarez, Chihuahua, to San Diego, California.
Why: Tom is an adventurer seeking to raise awareness of the many committed border-area nonprofits that are working to make the border region a better place to live. Proceeds from Tom's walk will benefit six different charities: Fundación Comunitaria Frontera Norte, Vision en Acción, and Cruz Verde (Green Cross) in Cuidad Juárez; El Paso Diabetes Association in El Paso; Fundación Internacional de la Comunidad's Voluntarios Unidos Por el Amor de Baja California in Tijuana; and the Music Without Borders Fund at the International Community Foundation in San Diego.
Opportunity: See or speak to Tom on the final leg of his journey when he crosses into the United States this Saturday morning, December 29th, when he will be arriving at the San Ysidro Port of Entry at approximately 6:00 am. Media representatives can reach him on his Mexican cell (011-521-656-201-6649) to speak directly to him or meet him along the way as he completes his journey!
Excerpts from his travel journal can be accessed at: http://www.icfdn.org/enewsletter/holiday2012/012.php
For more information about Tom and Pancho's journey and to make a donation to the charities they are supporting, please click http://www.followthefrontier.fcfn.org