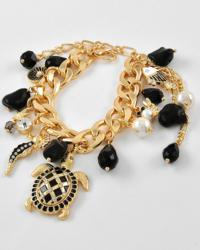 Seashore Charm Bracelets Are Unique And Fun To Wear
Glenview, IL (PRWEB) December 27, 2012
Retailing for $28.00 our new Seashore Charm Bracelet is quite amazing. 7" long, plus a 1-1/2" extension, for added comfort. Handmade, featuring many themes such as a gold and black accented turtle, a charming seahorse plus an oyster with a small faux pearl inside. Additionally there are separate faux pearls, black onyx, many clear crystal baubles and faux onyx hanging from a non-tarnishing Goldtone finish. The collection of both traditional and truly unique charm bracelets all have the appeal of quality jewelry at an affordable price. Showcased are a wide variety of design themes such as a good-luck elephant charm bracelet, wardrobe charm bracelet, shoe & handbag charm bracelet, keys-to-heart charm bracelet and travel theme charm bracelet. Each charm bracelet is unique, hand crafted, beautiful, with some including hand-set stones. Fashionable and fun to wear daytime or evening. Also available are fashion jewelry items such as brooches, earrings, necklaces, clutch handbag along with our exclusive Keepsake Pocket Heart Love Coins.
"Customer feedback tells us that our Seashore Style Charm Bracelet is fun to wear. Works great with wardrobes from silk to denim. Our themed based charm bracelets are perfect coordinates to add to one's jewelry collection or as a gift," said Marianne Crabtree, Creative Director.
"Our entire line of products arrive beautifully gift wrapped," adds Crabtree.
JustAboutLove.com offers many different types of fashion jewelry including our Keepsake pocket heart love coins, charm bracelets, necklaces, brooches and special occasion gifts.
To learn more about our line of Charm Bracelets, or to browse our selection of fashion jewelry, please visit http://justaboutlove.com/seashore.html