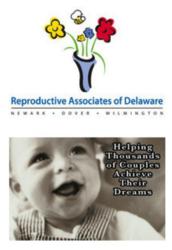 Being able to provide low cost donor egg services without sacrificing success rates is revolutionary.
Newark, DE (PRWEB) December 27, 2012
Reproductive Associates of Delaware (RAD) is proud to announce their new affiliation with My Egg Bank, North America (MEBNA). By joining MEBNA's multi-center egg bank network, RAD will provide frozen donor egg services that are more economical, convenient and efficient than traditional fresh donor egg approaches. MEBNA's rapid egg freezing technology produces successful pregnancy outcomes equal to or greater than traditional fresh egg donation, at a fraction of the cost. RAD is one of very few centers in the Mid-Atlantic region to offer this unique treatment option.
"Cost is typically a very significant deterrent to patients seeking donor egg services, so being able to provide low cost donor egg services without sacrificing success rates is revolutionary," stated RAD's IVF Medical Director, Dr. Ronald Feinberg. "We have previously demonstrated the ability to freeze and thaw eggs that have led to successful and healthy pregnancies. Our new agreement with MEBNA will provide even more options for many patients."
Compared to traditional fresh egg donation, where recipient patients are responsible for covering the high costs of treatment, compensation, and medication for their donor, frozen donor egg recipients typically pay 30 to 50% less. In addition to the financial benefits, the technique used to freeze the eggs, also know as vitrification, dramatically reduces the risk of cell damage that is often associated with other freezing techniques. This enhances the efficiency of the procedure, resulting in successful pregnancy rates equal to or greater than traditional fresh egg donation.
Patients also benefit from the enhanced convenience of MEBNA's program. Utilizing frozen eggs allows patients to begin treatment immediately, avoiding the synchronization of recipient and donor menstrual cycles. Typically the donor match and synchronization process associated with fresh donation can take as long as six months to one year. Utilizing frozen donor egg also guarantees couples a specified number of mature, well-developed eggs. With fresh egg cycles, patients are not guaranteed a specific number of eggs from the donor.
Recipient patients also have increased control over their donor choice. With MEBNA's frozen donor egg database, patients have the opportunity to view demographic information of potential donors so they can choose those that best fit their preferences. MEBNA's donors undergo thorough medical, genetic, and psychological testing and come from diverse ethnic and racial backgrounds.
"We're very excited to be able to offer this highly effective, low cost option for our patients. This opens doors for many families that may not have been able to afford donor egg services before," commented Dr. Adrienne Neithardt, RAD's Director of Third Party Services. "Our initial cycles of treatment will start this January."
Reproductive Associates of Delaware, established in 1995, is a subspecialty fertility practice with locations in Newark, Wilmington, and Dover. RAD's Board certified physicians are Drs. Barbara McGuirk, Ronald Feinberg, George Kovalevsky, Adrienne Neithardt, and Lenore Tietjens-Grillo. RAD's IVF program and Fertility Wellness Center are located on the main campus of the Christiana Care Health System in Newark.