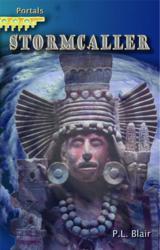 I like throwing twists into my stories.
Sheridan, WY (PRWEB) December 28, 2012
Author P.L. Blair has been nominated for two awards from Paranormal Romance Guild, an organization of readers and writers of the popular genre.
Stormcaller, the second ebook in Blair's supernatural suspense Portals series, has been nominated for Best Book of 2012, Young Adult category, and the series itself has been nominated for Best Young Adult Series for 2012.
PRG is a non-profit organization formed online Oct. 31, 2009, by readers and writers of the paranormal romance genre to support the genre through the web site and special events. The organization's volunteer reviewers accept books in all genres for reading, and Gloria Lakritz, PRG's treasurer and senior reviewer, has estimated the organization reviewed close to 1,000 books in 2012.
"I feel honored just to be nominated in such stellar company," Blair says. Her first ebook, Shadow Path, received a four-star review from PRG last year – then took third place in PRG's 2011 Reviewer's Choice Awards, Young Adult category.
Stormcaller, reviewed earlier this year, received five stars.
Set in the Corpus Christi, Texas, area where she lived and worked for several years, Blair's Portals is a supernatural suspense series that brings elves, wizards, ancient gods and other creatures from mythology and folklore into our modern human world.
"What I do," Blair says, "is explore what can happen when these creatures use magic to commit crimes."
Her main characters – human police detective Kat Morales, her elf partner Tevis, the wizard Arvandus and Arvandus' nephew, Gairth – have the task of solving these crimes.
In Stormcaller, the villain is Tlaloc, an ancient being that the Aztecs worshiped as a god of storms, fertility and virulent diseases such as tuberculosis and leprosy.
"I picked up on Tlaloc's role as a bringer of storms," Blair says. "He's come back to the human world with a single – impossible – demand: Restore his worship as in the old days, complete with human sacrifice, or he will destroy the Texas coast with a monster hurricane."
Stormcaller also gives Blair's readers a glimpse of the "other side" of her Portals – the Realms of Magic, where her main characters must go after they discover that Tlaloc cannot be defeated in the world of humans.
"I like throwing twists into my stories," Blair says. "At heart, I'm a storyteller, and for me, the best stories are those that toss in a little slice of the unexpected."
The Texas native – born in Tyler – fell in love with books and writing as a child, and majored in journalism first at Tyler Junior College then at Texas Woman's University before taking a job as reporter at her hometown newspaper in 1970.
After five years there, she moved to Corpus Christi and, later, to Rockport – on the coast a few miles north – where she wrote for the Rockport Pilot until moving still farther north, to Sheridan, Wyo., in the mid-1980s. After working at non-newspaper jobs for a few years, Blair became a reporter for The Sheridan Press in 1996.
"I love newspaper work," Blair says, "but what I've always wanted to do is write books. Especially fantasy." Blair says she's been fascinated from childhood by folklore and mythology, and that love was reinforced when, in high school, she was introduced to JRR Tolkien's The Hobbit and Lord of the Rings.
"I love the worldbuilding of Tolkien and the other epic fantasy authors," she says. "They are simply awesome!"
But, she adds, "I'm not really a worldbuilder. I'm more comfortable with the urban fantasy setting – our own, human world. And I love the idea of taking these beings that we think of as being products of our imagination, and dropping 'em into the modern world to interact with us humans today."
The detective element of Blair's books comes from her other love – mysteries, police procedurals and the various CSI television shows.
"I love forensic science," she says. "When I first got the idea for Shadow Path – and its successors in the series – I was thinking in terms of CSI-type novels, where the detectives would use forensics as part of their crime-solving.
"Then I gave Tevis, the elven detective, the ability to See how someone has died just by laying his hands on the victim, and … the forensic element kind of went out the window."
Blair's publisher, Pamela See, president and CEO of Studio See Publishing LLC, initially issued Blair's books in print versions, but in recent years has re-issued them in digital format – with plans to introduce the future books in Blair's series as ebooks first.
"Digital books are a growing market," See says. "I want Studio See to be part of it."
Blair's series to date includes print and digital versions of Shadow Path, Stormcaller, and Deathtalker, a recent ebook release, plus another print book, Sister Hoods, scheduled for release as an ebook early next year.
Also in the works is a fifth book in the series, a tale involving leprechauns.
"People have asked how many Portals books there will be," Blair says. "I honestly don't know. I'll tell Kat's and Tevis' adventures until I run out of ideas – or mythological creatures to draw on, or until Kat and Tevis get out of my head."
In the meantime, Blair is waiting to see the results of the PRG awards. Voting ends Dec. 30, and winners will be announced Dec. 31, according to the organization's web site.
"I'd love to be among the winners," Blair says. "But I know there are a lot of other good writers – good books – in the running. And right now, I'm just happy to have made the cut as a nominee."