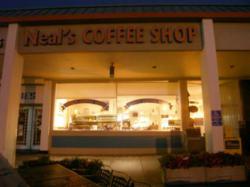 Come visit us today and bring this printed release to receive 20-percent off your entire check
Burlingame, CA (PRWEB) December 27, 2012
As a family restaurant and coffee shop in San Mateo, Neal's Coffee Shop is thrilled to announce a special offer that is valid at its recently opened second location in the Crystal Springs Shopping Center.
"Come visit us today and bring this printed release to receive 20-percent off your entire check," Sunil (Neal) Prasad of Neal's Coffee Shop, said.
Opened last September, the new location is in a quaint and friendly neighborhood that is a great area for the coffee shop to provide its outstanding hospitality and traditional American cuisine. At the lunch restaurant, customers will enjoy home cooked comfort foods without slaving over a hot stove. The coffee shop and family restaurant serves three meals, including breakfast, all day. It even features healthy alternatives, a senior menu and children's menu--it's perfect for the whole family.
Open seven days a week, from 6 a.m. until 9 p.m., customers can dine in or take an affordable feast home to the family. With two convenient locations in Burlingame and San Mateo dishing out favorite breakfast and dinner meals, there's something for everyone at Neal's Coffee Shop.
For more information about the new location or any of Neal's Coffee Shop's products, call 650-692-4281, view the lunch restaurant on the Web at http://www.nealscoffeeshop.com, or visit one of the two locations at 1845 El Camino Real in Burlingame and 114 De Anza Blvd. in San Mateo.
About Neal's Coffee Shop
Neal's Coffee Shop is a San Mateo family and lunch restaurant that serves breakfast, lunch and dinner seven days a week. Neal's menu features all-day breakfasts, and a substantial lunch and dinner menu, plus healthy alternatives. Neal's has two locations in Burlingame and San Mateo.