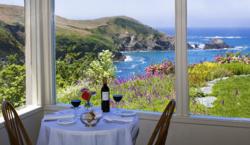 There is going to be some excitement – some pretty happy people when the winners are announced
Mendocino, CA (PRWEB) December 27, 2012
For those who put a Mendocino getaway on their Christmas wish list – and were disappointed not to receive it – it's not too late for a holiday celebration. Enter the Mendocino Lovers' Sweepstakes through December 31st for a chance to win a free vacation getaway to Mendocino County.
Grand prize winners of the Mendocino Lovers' Sweepstakes will stay in first-rate lodgings, dine at some of the county's finest restaurants, sample some of its award-winning beers and wines and get the chance to share in some exciting outdoor adventures.
Those who enter the Mendocino Lovers' Sweepstakes can win one of several grand prizes: $25,000 in cash, a Food and Wine Tasting Package, a Mendocino Coast Wedding, a Fun Adventure Package, a Shopping Spree and Spa Package; and a Cultural and Creative Arts Package; each package features elegant and cozy accommodations.
"People love getting away to Mendocino County because it really has it all," said Jeane Bilolavek, the Sweepstakes creator and publisher of the Mendocino County and Gold Country directories. "And a big part of that has to do with where you stay and what you eat." Bilolavek is confident that the winners of the Mendocino Lovers' Sweepstakes won't be disappointed.
"There is elegance, charm, and something very unique to each establishment," she added. "The Little River Inn, The Stanford Inn by the Sea, the Albion River Inn, Agate Cove Inn and The Sea Rock Inn – all offer great amenities and most rooms come with spectacular coastal views."
The complimentary meals that are part of each sweepstakes package, she said, also help create a unique dining experience. MacCallum House provides a five-course dinner with a bottle of local champagne for the winner of the Food and Wine Tasting Package. Ravens' Restaurant, another sponsor, features its nationally acclaimed vegetarian cuisine; and Ukiah Brewing Company offers a lucky winner organic California cuisine and award winning beers.
"The Mendocino Lover's Sweepstakes has been a wonderful vehicle for Mendocino small businesses to showcase their valuable services and products," said MacCallum House Inn & Restaurant Owner, Jed Ayres. "We have so much to offer here in our area, from breathtaking scenery to gourmet food & wine to world-class inns, that just a little exposure goes quite a long way in encouraging visitors."
"A visit to Mendocino is a wonderful gift to give somebody," Bilolavek said, "especially now around the holidays. So I encourage everyone to enter the sweepstakes, even as the deadline draws near. You just never know. There is going to be some excitement – some pretty happy people when the winners are announced – that's for sure."
The deadline for entering the Mendocino Lovers' Sweepstakes is December 31st. Grand prize winners will be announced in January 2013.
Contact: Mendocino Lovers' Sweepstakes
info(at)mendocinovisitors(dot)com
Ph: 415.488.1285
###