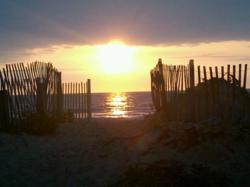 Kill Devil Hills, NC (PRWEB) December 27, 2012
Footprints in Recovery, a non-traditional, full service treatment facility housed on the Outer Banks of North Carolina, is available to assist individuals wanting to break the cycle of addiction in the New Year.
Featuring the serenity of a coastal retreat in a vacation-based setting, Footprints in Recovery offers those suffering from addiction a low-cost alternative to a traditional institution or non-residential outreach program.
Within the recommended scope of 30/60/90 days, addiction specialists guide residents through the detoxification process, provide professional counseling services and offer interaction with like-minded individuals who are currently battling or have battled addiction.
In a relaxing and 100% sober environment, program participants share in outdoor excursions, meal preparation, housekeeping duties and, more importantly, each other's company. The facility also emphasizes the healing properties of massage therapy, yoga and exercise. The combination of holistic therapy and traditional, proven addiction therapy is a dual attack on dysfunctional lifestyles.
If residents decide to stay in the area after completing treatment, Footprints in Recovery offers transition services to assist in relapse prevention. With written consent, counselors will even conduct home visits to follow up and monitor progress, acting as liaisons between former residents and proper follow-up programs.
Footprints also offers a unique guarantee: if any participant suffers a return to addiction after completing treatment, the rehab facility will welcome them back for a free, two-week intervention to assist in the return to sobriety.
For more information on treatment programs, Footprints in Recovery can be contacted via their website http://www.footprintsinrecovery.com or by calling 1-877-429-0713.