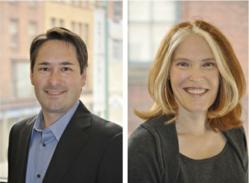 New Haven, CT (PRWEB) December 27, 2012
Art, architecture and advisory firm Svigals + Partners, known locally and regionally for high-performing and sustainable projects ranging from master planning to highly specialized research/life science facilities to K- 12 schools, announced today the decision to elevate one of their more prolific associate principals to partnership, and one of its most creative and energetic project managers to the ranks of the firms principals.
Christopher Bockstael, AIA, who joined the firm in 2004 and was promoted to Associate Principal in 2009, is now one of the firm's Partners. Julia McFadden, AIA, with the firm since 2008 and frequently in a project management capacity, will now take the title of Associate Principal.
"The promotion of Chris to partner will be no surprise to any of our colleagues or clients," says firm founding partner Barry Svigals, FAIA. "It represents the growing internal strength of the office, allowing these developing resources to increase their responsibilities."
According to Barry Svigals, Bockstael has already demonstrated "great design talent and abundant contributions to the strategic advancement of the firm. In short, his capabilities in all aspects of our practice will simply be taken to a new level," he says. In particular, Bockstael will take on an expanded role as a Director of Design for multiple projects.
"Julia is the leading member of our new talent in the office," Svigals continued. "She brings the knowledge and maturity of directing her own firm to our practice, as well as valuable experience in articulating our brand of integral architecture and art." Currently the leader of Svigals + Partners' Education Studio and project manager for the firm's largest project, the Engineering & Science University Magnet School (ESUMS) in New Haven, McFadden will also take a leading role in directing the marketing efforts firm-wide in her new role as Associate Principal.
"Needless to say, we are delighted to announce their new positions and herald the developing talents of those in the office that make this possible," says Svigals.
Leadership in Architecture + Art
Since joining the firm in 2004, Christopher Bockstael, AIA, now elevated to partner, has made himself invaluable to the success of the Svigals + Partners mission through his ability to think both strategically and creatively. This essential design talent has contributed to some of the firm's most prominent successes.
As project manager for the award- winning New Haven headquarters of tech company Higher One, Bockstael's efforts produced a forward-thinking adaptive reuse design of the circa 1915 Winchester Arms factory. The project included the striking addition of a glass-enclosed atrium that connects two of the older buildings. The result has been heralded as helping to revitalize Science Park, a part of downtown that had struggled with decline. Bockstael also lent his considerable experience with interior design and adaptive reuse to Yale New Haven Hospital's livingWell Fitness center, the first facility of its kind and offered exclusively to Yale employees. Currently, Bockstael is engaged in the renovation and expansion of PepsiCo's Research and Development laboratories in Valhalla, N.Y., among other projects. As a collaborative thought-leader, Bockstael's forte is delivering innovative solutions to a broad range of complex project types.
Having earned her Master of Architecture at the University of Minnesota, McFadden joined Svigals + Partners in 2008, by then already having 10 years experience as a practicing architect. A true consensus builder, she brings a desirable combination of attributes to her new role as associate principal: Experience, deep technical knowledge and facility with problem-solving that accelerates client collaboration and project goals.
Currently, McFadden serves as project manager for several Svigals + Partners projects. A renovation and addition for The Little Theatre in New Haven, a landmark facility on the National Register of Historic Places, is currently under construction, while the new Engineering & Science University Magnet School (ESUMS) for grades 6-12 and a new and expanded facility for the Ronald McDonald House of Connecticut – both in New Haven – are currently in the design phase. For all three projects, McFadden brings to bear her skills in facilitating user and community programming workshops, developing innovative strategies for space utilization, and identifying design opportunities for unique and inspired expressions of the clients' mission and goals.
Both McFadden and Bockstael write and talk frequently about their respective areas of expertise. For interviews or information on their projects currently underway, please contact Allison Gapski of Svigals + Partners at (203) 786-5110, or Chris Sullivan at C.C. Sullivan Strategic Communications, (914) 462-2096.
###
For more information, interviews and images, please contact Chris Sullivan at (914) 462-2096 or chris(at)ccsullivan(dot)com.
About Svigals + Partners
Based in New Haven, Connecticut, the full-service architecture, art and planning firm Svigals + Partners has specialized in the design and construction of research and science facilities since its inception in 1983. Known for their original and imaginative integration of planning, design, and artwork in the service of broad client goals, the firm is committed to creating meaningful change in the world. Svigals + Partners offers a complete range of architectural services from master planning, site selection and feasibility studies through design and construction. In the firm's portfolio are major laboratory projects as well as 30 years of new and renovated private and university research buildings. Other areas of specialization include K-12 schools and corporate facilities. For more information, visit http://www.svigals.com.