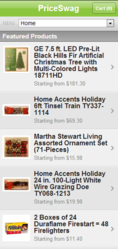 PriceSwag.com, a shining star in the deep-discount universe!
Alpharetta, GA (PRWEB) December 27, 2012
PriceSwag.com, an innovative online deep-discount retailer, has launched an end of year inventory reduction sale. All products, no exceptions, will be discounted an additional 20% at time of checkout with code (EOY12). Year-round prices are discounted 50-80% off so the extra 20% savings represents an excellent opportunity for our customers.
Unlike most retailers, PriceSwag, LLC, procures products at a fraction of traditional costs from accounts nationwide. Mixed-conditions, deep discounts, and varying assortments of brand name products appeal to many customers. PriceSwag.com carries products in 13 major categories from home improvement and fashion to tools and hardware. Customers can search by product condition or category on the home page.
Do you prefer traditional browsers or mobile devices? PriceSwag.com can be accessed across all interfaces from desktop browsers to tablets and phones. PriceSwag Mobile is optimized for the latest iOS and Android-based smart phones.
PriceSwag is active on various social media channels including Facebook and Twitter. Join to receive the latest news, special promotions, discount codes, and contests.
The year-end savings event ends on December 31, 2012 at 11:59PM EST.