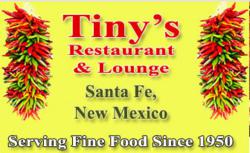 Santa Fe, NM (PRWEB) December 26, 2012
Santa Fe, NM, dining and night club hotspot Tiny's Restaurant & Lounge has been part of the dining and night time entertainment industry going back to 1950. 2012 has been a banner year with Friday and Saturday's at Tiny's offering live music and karaoke most weeks. Santa Fe New Year's Ever 2012 is all set with Anthony Leon and The Chain hitting the stage from 8 p.m. to 12 a.m., Tuesday, Dec. 31, 2012.
Anthony Leon & The Chain are a High Energy Two-Steppin'-Head-Bangin' Alternative Country Band based out of Santa Fe, New Mexico. For three years the band has created a sound so unique it deserves it's own genre. A Hybrid of Bluegrass, Honky Tonk, and Rock & Roll, the band uses great lyrics and great harmonies to tell the stories of a good-boy-gone-bad looking for his way home. An Anthony Leon & The Chain show is a roller coaster ride of groovin' and rockin' country based musical rhythms and transitions that keeps everyone's toes a-tapping and boot-tees a-shaking! Anthony Leon & the Chain can be compared with Johnny Cash, Uncle Tupelo, The Old 97's, and the Louvin Brothers.
About Tiny's Restaurant & Lounge:
"Tiny's Dine and Dance" was started in 1950 by Walter "Tiny" Moore and his son-in-law, Jimmie Palermo. Tiny operated the bar while his wife Lucille ran the kitchen. Jimmy's wife Betty (Tiny's daughter)was the hostess. Jimmie had a trio for dancing entertainment. Jimmie played the accordion while Virgil Maez sang and played the piano and Nacho played the drums It was a beautiful operation . Tiny's was the place to be seen to eat and dance.
In 1956 we went into the uranium business, went broke and lost the nightclub. Later we purchased a small bar downtown across the street from the Bus Depot on Water Street and called it TINY'S.
In 1959 Jimmie and Betty purchased Tiny's from Tiny Moore and moved down the street and became quite a successful team. Betty became an accomplished bartender becoming well known for her "Brandy Alexander's". As in most successful businesses, there's lots of long hours required to make the business run and Betty saw to it that our business was operated to her specs: neat, clean, courteous and friendly. Betty was the backbone of Tiny's.
In 1971 Urban Renewal came to Santa Fe and Tiny's was forced to move from downtown to our present location. Tiny Moore and Jimmie have since passed away, while Betty and Lucille have retired.
Today, J.R. and his wife, Pamela, carry the torch of tradition by operating the restaurant and lounge. Keeping the tradition alive for the fourth generation-Jamie, Eugene (Geno) and Crista May, Pamela and J.R. enter the next millennium adding their own legacy in the hospitality industry in Santa Fe.
The Bar and Dining area feature one of the Southwest's largest decanter collections. Name brands include Wild Turkey, Jim Beam, Ski Country, Lionstone, and Ezra Brooks, all done in fine china, as well as many works of art done by "locals" Gib Singleton, Ramon Rice, Barry Coffin, Clark Hulings, Earl
About SantaFe.com:
SantaFe.com provides locals and visitors to Santa Fe alike the most current interactive platform for events, music, arts, business, dining and lifestyle. SantaFe.com is a division of Hutton Broadcasting, located at 2502 C. Camino Entrada, Santa Fe, NM 87507
Contact Information:
Scott Hutton
SantaFe.com / Hutton Broadcasting
http://www.santafe.com
(505) 471-1067 (Media inquiries only, please)
Biss, Frank Howell, Tommy Manscione, Ernesto Zepeda, Jerry Georgeff, R.C. Gorman, John Fincher, Peter de LaFuente AND Jimmie Palermo.