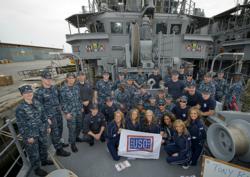 We are so grateful for the opportunity to extend America's thanks to our troops during this holiday season, a time when they miss their families and comforts of home the most - Cassie Trammell, DCC
Arlington, VA (PRWEB) December 27, 2012
True to their long history of supporting troops and military families the Dallas Cowboys Cheerleaders (DCC) recently set out on their 75th USO/Armed Forces Entertainment tour and are busy spreading holiday cheer to troops in the Middle East. Among the most traveled of USO tour veterans, the DCC have traveled to more than 200 locations since their first USO tour in 1979, lifting the spirits and delivering a touch of home to countless troops and military families around the world.
DETAILS:

So far, the DCC have uplifted the lives of hundreds of troops spending this holiday season deployed overseas.
As part of their longstanding USO history, the DCC have visited troops and military families in locations such as Afghanistan, Bahrain, Cuba, Germany, Iceland, Iraq, Japan, South Korea, Kuwait, the United Kingdom, as well as numerous stateside visits.
Always looking for ways to show their support of troops members of the DCC attended the USO's 2012 Gala to help celebrate and thank troops for their service and dedication.
The team wrapped up the 7th season of the hit reality series "Dallas Cowboys Cheerleaders: Making the Team," which airs on the CMT network.
When getting into the holiday spirit this season, remember our deployed servicemen and women, wounded troops and military families. Visit usowishbook.org and recognize a special occasion while directly benefiting troops and their families.
QUOTES:
Attributed to Sloan Gibson:
"The USO and the Dallas Cowboys Cheerleaders have been delivering life-changing experiences to troops and military families for more than 30 years. We are both proud and thankful for the DCC's continued commitment to supporting our troops and their families. This 75th tour is a momentous occasion in USO history and we couldn't be happier about sharing this milestone with an organization like the DCC."
Attributed to Dallas Cowboys Cheerleaders Cassie Trammell:
"We've seen so many service men and women so far and it's been a blast. We are so grateful for the opportunity to extend America's thanks to our troops during this holiday season, a time when they miss their families and comforts of home the most. Being able to distract them, even for just a little while, from what they are missing back home is such an honor for all of us. "
MULTIMEDIA:
USO Tour Photos: http://bit.ly/T29JBD
USO Fact Sheet: http://bit.ly/SNzF4R
# # #
About the USO
The USO (United Service Organizations) lifts the spirits of America's troops and their families millions of times each year at hundreds of places worldwide. We provide a touch of home through centers at airports and military bases in the U.S. and abroad, top quality entertainment and innovative programs and services. We also provide critical support to those who need us most, including forward-deployed troops, military families, wounded warriors and their families and the families of the fallen.
The USO is a private, nonprofit organization, not a government agency. All of our programs and services are made possible by the American people, support of our corporate partners and the dedication of our volunteers and staff. In addition to individual donors and corporate sponsors, the USO is supported by President's Circle Partners: American Airlines, AT&T, Clear Channel, The Coca-Cola Company, jcpenney, Kangaroo Express, Kroger, Lowe's, Northrop Grumman Corporation, Procter & Gamble, and TriWest Healthcare Alliance and Worldwide Strategic Partners: BAE Systems, The Boeing Company, Lockheed Martin, Microsoft Corporation and TKS Telepost Kabel-Service Kaiserslautern GmbH & Co. KG. We are also supported through the United Way and Combined Federal Campaign (CFC-11381). To join us in this patriotic mission, and to learn more about the USO, please visit uso.org.
Twitter Pitch: @DCCheerleaders cheer to troops serving in the Middle East on 75th @the_USO tour