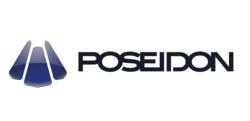 PUNTA GORDA, FL (PRWEB) December 27, 2012
The brand new 2012 Poseidon Trident 565/6S Edge Polishing Machine is available on sale at PoseidonMachinery.com. Poseidon Industries Inc. a USA-based company that deals in high quality stone machinery and equipment, and other general machinery and equipment that comes either in brand new condition or pre-owned but in reliable, working condition. As a brand new edge polishing machine, the 2012 Poseidon Trident 565/6S has a full two-year premium warranty. "The Trident is a good choice for any fabrication shop that values work efficiency and customer satisfaction", reports Jose Alva Poseidon Industries, Inc. executive.
The 2012 Poseidon Trident 565/6S Edge Polishing Machine has a weight of 16,000 pounds and is a belt-driven edge machine with 14 heads. It is equipped with 6 spindles on 1 bridge and has revolutionary double pre-cut blades for cutting bevels in just one pass. This edging machine performs well in making 3.00 centimeters bullnose at the rate of one linear foot per minute as well as 3.00 centimeters flat polish at the rate of three linear feet per minute on any natural stone material such as marble, granite, travertine, onyx, limestone or engineered stones for commercial or industrial use. Furthermore, this brand new Poseidon edging machine offers great working space to the operator as it has a length of 31 feet with entry and exit roller tables. It is also equipped with a calibrating wheel for ogee profile capabilities to suit different styles and preferences in structural design. Categorized under stone equipment, this machine is made to withstand any edging or polishing jobs in the quickest time possible with less human intervention or maneuverability. Companies in the industry can discover the Trident and other high quality machines at PoseidonMachinery.com the portal for Poseidon Industries Inc. new line of stone equipment. "We strive to develop very high quality machinery at competitive pricing. Our goal is to soon be producing all Poseidon machines in the 50 states," Joe Alva Poseidon Industries executive excitedly reports.
Poseidon Industries, Inc. has a pool of professional technicians who will provide full training in the operation and functionality of the machine including installation. The acquisition of 2012 Poseidon Trident 565/6S Edging Machine comes along with full tooling necessary for a safe and convenient operation and work. Having this edging machine, the task of making bevels or ogee designs on any stone is made easy and light. Edging precision will surely define the craftsmanship of everything produced when using the 2012 Poseidon Trident 565/6S Edging Machine. "The Trident is made in Verona, Italy. Any company could expect the durability of the materials used and dependability in terms of handling big volumes of edging and polishing stone materials," states Joe Alva.
For more information regarding the 2012 Poseidon Trident 565/6S Edging Machine, buyers can contact Poseidon Machinery at 1(877) 571-5599. Getting useful data on the 2012 Poseidon Trident 565/6S Edging Machine can also be accessed on slide presentation by visiting the site link PoseidonMachinery.com