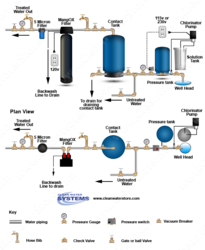 Santa Cruz, CA (PRWEB) December 29, 2012
Millions of Americans depend on groundwater wells for their drinking water. Fortunately safe potable water is often the result of a properly installed well. Many well waters require some treatment however, before the water can be used. Water conditions vary widely and there are hundreds of different types of treatment systems required depending on the water chemistry of a particular well water.
According to the U.S. Environmental Protection Agency, "EPA regulates public water systems; it does not have the authority to regulate private drinking water wells. Approximately 15 percent of Americans rely on their own private drinking water supplies, and these supplies are not subject to EPA standards, although some state and local governments do set rules to protect users of these wells."
Well water treatment systems are now commonly used by millions of homeowners, but many find it difficult to know how to integrate a water treatment system in to their existing water well. Now homeowners and well water drillers and pump contractors can have free access to well water diagrams so they can understand how various types of well water treatment systems are installed.
"Over the years we have designed hundreds of custom water treatment systems for water well owners, and now these diagrams are finally available for public access", according to Peter G. Bulfin, President and CEO of Clean Water Systems & Stores Inc.
Well Water Diagrams for aeration systems, soda ash injection systems, chlorinators, iron filter systems, acid neutralizers, turbidity filters, ozone systems, reverse osmosis and many more are now available.
Clean Water Systems & Stores specializes in water treatment of contaminated well water in North America and has over 8000 customers in over 30 countries. The company provides custom easy-to-install water treatment systems and products in a large variety of different types and configurations including systems for removing iron, manganese, sand, odors, bacteria, turbidity and sediment.