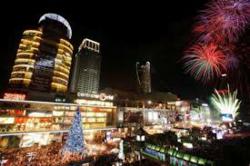 (PRWEB) December 27, 2012
TAT Governor Mr. Surapol Sewtaserani announced that the New Year's Eve events of 31 December 2012 to 1 January 2013 will be celebrated under the overall theme, "Miracle Thailand Countdown 2012."
TAT is supporting eight events throughout Thailand: in Bangkok, Chiang Mai, Chiang Rai, Pattaya, Khon Kaen, Hat Yai and Phuket with the objective of promoting world-class New Year's countdown activities. These celebrations will be held in tandem with numerous countries worldwide.
Mr. Surapol announced the following details for the 2013 New Year's Countdowns in Thailand:
1. Bangkok 2013 Countdown at the Ratchaprasong Intersection from 31 December 2012 to 1 January 2013: Enjoy musical performances, a variety of entertainment activities, and fireworks displays.
2. Chiang Mai 2013 Countdown: Enjoy concerts, entertainment activities, fireworks displays and a countdown to welcome the New Year on the 31st and 1st in the Thapae Road/Tha Phae Gate area.
3. Pattaya 2013 Countdown: Enjoy Christmas activities with festive lights and decorations along the streets with performances from Grammy singers; fireworks displays every night. Held from 25-31 December 2012 in the Tourism Port area (Laem Bali Hai) in South Pattaya, Pattaya City, Chon Buri.
4. Night Paradise Hat Yai and 2013 Countdown: Held in the Nipat Uthit 3 Rd. area and Senhanusorn Rd. in Hat Yai, Songkhla, from 30 December 2012 to 1 January 2013. Enjoy concerts by popular stars and the dazzling fireworks display.
5. Colorful Phuket 2013 Countdown: Held in the Sanam Chai area in the Phuket municipality from 29-31 December 2012. Enjoy the festivities with the backdrop of Fantasy World decorations in Light and Wonderland with musical performances, a variety of entertainment activities, and a grand fireworks display.
6. Phuket Electric Music of Dance 2013 Festival: Held in the Karon Beach Area in Phuket municipality from 31-31 December 2012. Celebrate among world-class electronics concerts and an electronic music artist contest.
7. Khon Kaen 2013 Countdown: Held in the Srichan Rd. area (Pratu Muang-San Lak Muang Intersection) from 29 December 2012 to 1 January 2013. Peruse these exciting activities on a road full of festivities and concerts performed by famous artists, a food offering ceremony for Buddhist monks, and much more.
8. Three-Country Miracle 2013 Countdow: Held in the border town of Mae Sai, Chiang Rai Province from 30 December 2012 to 1 January 2013. Featuring contemporary music performances and cultural arts from three countries – Thailand, Myanmar, and Laos – including trade booths and local cuisine, musical fireworks displays, and diverse international entertainment.
In addition, TAT will be hosting New Year's activities throughout the month of January with the event, "Pray for More Blessings and Good Fortune."
TAT has created these new ways to commemorate three auspicious occasions for the Thai people in 2012:The eighty-fifth birthday of HM King Bhumibol Adulyadet, the eightieth birthday of HRH Queen Sirikit, and the fifth cycle (sixtieth birthday) of HRH Crown Prince Vajiralongkorn.
Pick up a guidebook at TAT's main office or call for more information at 1672 nationwide; or download the manual at http://www.amazingcountdown.com.
Contact information:
International Public Relations Division
Tourism Authority of Thailand
Tel: +66 (0) 2250 5500 ext. 4544-48
Fax: +66 (0) 2253 7419
E-mail: prdiv3 (at) tat (dot) or (dot) th
Web site: http://www.tatnews.org