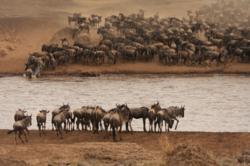 For the keen wildlife travelers looking to go beyond their domestic weekend getaways, Kenya and Tanzania remain great wildlife destinations without having to spend too much money
Washington, D.C. (PRWEB) December 28, 2012
PlanetWildlife, a leading provider of a wide range of wildlife travel and tours around the world, presents Wildlife's Hotspots for 2013—a month-by-month directory of what's happening and when—and itinerary suggestions to inspire nature lovers to experience some of the seminal seasonal events of the natural world.
To explore all the ideas and options available, visit PlanetWildlife's Calendar presented on the website under "Travel"
"We are now ready for the new travel season in 2013 with a unique and exciting range of newly designed trips like 'Discover Sri Lanka', which gives our travelers some amazing, unexplored, wilderness experiences in the island nation with a picturesque train journey. Interestingly enough, this train journey has been ranked sixth on the list of ten unique train trips of 2011!", Parveez Islam, manager of travel operations for PlanetWildlife, says.
The following events and trips are handpicked and crafted with the wildlife enthusiasts' diverse tastes and traveling styles in mind. "Our South Africa trips are great options for families looking for a nice blend of some family adventure and wildlife game experience,coupled with some fantastic driving routes and excursions", he says.
"Veteran explorers will certainly enjoy discovering the uncharted wilderness of Botswana, or consider embarking upon a remarkable journey to the Arctic or Antarctica".
Explore the wildest parts of our world all year long with PlanetWildlife's calendar for 2013.
January - Galapagos Islands + Sri Lanka

Galapagos Islands, Ecuador: January is the best time to see green turtles as they arrive at the beaches to lay their eggs. It is also the time land iguanas begin their reproductive cycles on Isabela Island and the water and air temperatures rise and stay warm until June—an ideal time for snorkeling. On this five day island hopping tour you will spot nesting turtles, iguanas, Galapagos penguins and will be able to snorkel in the clear waters.
http://www.planetwildlife.com/travel/itineraries/galapagos-island-hopping-tour
Cambodia: January is the best time to explore the unexplored mountainous regions of Cambodia. The weather is pleasant and not too humid and easy for trekking. This action packed, 14day tour winds through top cultural spots like the famous Angkor complex, small villages and the Mekong River, where you can spot Irrawaddy dolphins.
http://www.planetwildlife.com/travel/itineraries/northern-cambodian-adventure
February - India
Ladakh, India: Travel to Ladakh, India during the height of winter to track the elusive snow leopards. This is a winter trek and offers the best chances to spot this endangered cat. The trek itself takes you through the most scenic parts of the Himalaya.
http://www.planetwildlife.com/travel/itineraries/snow-leopard-experience
North East India: Travel to North East India this time of the year for the best viewing of single horned rhinoceros. Birders will enjoy prime sightings of birds like the bar-headed goose, barbets and Bengal Floricans. Explore three of the region's most amazing wildlife destinations, marvel at the rich bird life and see the famed rhinos of Kaziranga on this 10-day tour.
http://www.planetwildlife.com/travel/itineraries/eastern-explorer-nameri-kaziranga
March - Costa Rica + Uganda
Costa Rica:At the end of the dry season, March is a good month to spot birds and enjoy the mild weather. Explore the wildlife in their natural habitat and the volcanoes of Costa Rica and also get some time to relax , on this 15-day trip.
http://www.planetwildlife.com/travel/itineraries/forests-and-volcanoes-costa-rica
Uganda: Head to Uganda in March -the best time for gorilla trekking in the country. Track gorillas in the Bwindi Impenetrable National Park on this four day Ugandan tour.
http://www.planetwildlife.com/travel/itineraries/gorilla-tracking-bwindi-uganda
April - Madagascar + Nepal
Madagascar: Make your way to Madagascar to witness the courtship of Lemurs during this beautiful time of the year - the beginning of winter and enjoy the beautiful landscapes, trekking, bird watching and interaction with the resident tribes on this eight day tour.
http://www.planetwildlife.com/travel/itineraries/magical-madagascar
Nepal: Spring is starting in Nepal and it's an excellent time for wildlife viewing in Nepal's national parks. Visit the Sukla Phanta Wildlife Reserve, Bardia National Park and the Karnali River area where you can go rafting. Discover the region's culture and help out with bathing the elephants!
http://www.planetwildlife.com/travel/itineraries/discover-nepal-sukhla-phanta-karnali
May - Victoria Falls + China
Victoria Falls, Zambia: One of the Seven Wonders of the natural world, May is an ideal time to see the falls as it's the time when the water flow is at its highest. See the Falls in their roaring glory,see the diverse wildlife of the Chobe National Park and sight amazing mammals, including the endemic Kalahari elephant, on this six day tour to Botswana and Zambia.
http://www.planetwildlife.com/travel/itineraries/livingstone-and-chobe
China: Falling between a harsh winter and a hot summer, May is the prime time to visit China. Travel on this seven day meandering photo safari, during which you can photograph iconic sights like the Terracotta Army and also see the Golden monkeys in Dapingyu Nature Reserve and the Giant pandas at Bifengxia Panda Reserve.
http://www.planetwildlife.com/travel/itineraries/images-china
June - Tanzania + Mozambique
Tanzania: Travel to Tanzania this month to catch the start of the Great Migration. Starting in Serengeti, thousands of white bearded wildebeests, Thomson's gazelles and zebras migrate over to the Masai Mara. This awe-inspiring annual spectacle is one of the many highlights on this "Best of Tanzania" six day journey.
http://www.planetwildlife.com/travel/itineraries/best-tanzania-manyara-serengeti-ngorongoro
Mozambique: Make your way to Mozambique during this drier winter month to enjoy pleasant water temperatures for snorkeling and diving, as well as the best time to see migrating Humpback whales. This posh nine day tour starts out with game drives in South Africa and ends with four days of water activities -including optional whale watching - and relaxation at the luxurious, waterfront, Nuarro Lodge.
http://www.planetwildlife.com/travel/itineraries/south-africa-and-mozambique-bush-and-beach
July - Arctic + Brazil
Arctic: Travel to the Arctic circle during this region's short lived, cool summer. Spot reindeers, polar bears, seals and walruses as you cruise past, set foot on and camp on this region's island in this 10day tour.
http://www.planetwildlife.com/travel/itineraries/exploring-spitsbergen-basecamp-plancius
Brazil: July's mild temperatures coupled with drier, sunny weather make an ideal climate for travel to the wildlife rich Amazon to spot birds, land mammals and butterflies. Travel to the heart of the Amazon on this animal packed, eight day tour
http://www.planetwildlife.com/travel/itineraries/voyage-heart-amazon
August - Kenya + Botswana
Kenya, Africa: August marks the arrival of the migrating wildebeests and gazelles in Kenya. Over a million wildebeests, zebras and gazelles migrate from Serengeti to the grasslands of Masai Mara. Enjoy this highly popular natural spectacle and other Kenyan must-sees, like Lake Nakuru National Park, on this seven day tour.
http://www.planetwildlife.com/travel/itineraries/masai-mara-migration
Botswana: Travel to Botswana during this dry month for unparalleled wildlife sightings thanks to lower water levels.Experience the best of Botswana's wildlife and nature with game drives, walks and mokoro rides on this nine day tour.
http://www.planetwildlife.com/travel/itineraries/wildlife-and-nature-explorer-botswana
September - Indonesia + Borneo
Indonesia: Sandwiched between the wet and dry season, September is a wonderful time to visit Indonesia. Explore off the beaten path on this seven day tour where you'll cruise past orangutan release islands, walk through remote villages and stay in a traditional longhouse.
http://www.planetwildlife.com/travel/itineraries/jungle-river-cruise-and-longhouse-stay
Borneo:Known for its abundance of primate species, Borneo impresses in September. Travel here and enjoy the abundance of flora-fauna, observe the impressive Mount Kinabalu and sight Hawskbill Turtles and Orangutans in their natural environment on this 10day journey.
http://www.planetwildlife.com/travel/itineraries/wild-borneo
October - Bhutan + Vietnam
Bhutan: Trekkers will enjoy October in Bhutan as it's the best time to access the higher Himalayan mountain ranges before winter officially sets in. As an emerging travel destination, Bhutan is quickly growing in popularity for its pristine landscapes and rare animals. Experience some of Bhutan's top sites in this expansive 10day adventure.
http://www.planetwildlife.com/travel/itineraries/bhutan-adventure-paro-thimphu
Vietnam: After the monsoons have passed, October is the time to hit the top spots in Vietnam on this 13day classic overview trip of Vietnam. Travel the entire length of this fascinating country with a cruise along Halong Bay and visits to the hill tribes of Sa Pain the Northern region and the tropical jungles of the South.
http://www.planetwildlife.com/travel/itineraries/classic-vietnam
November - India + Kenya/Tanzania
India:Head to India in November to spot tigers during the mild, dry winter here. India's majestic tigers are the focus of the 11day Only Tigers trip, during which you will explore the tiger dense Bandhavgarh and Kanha national parks and visit the world famous Khajuraho Temple.
http://www.planetwildlife.com/travel/itineraries/only-tigers
Kenya/Tanzania: If you missed the first two legs of the Great Migration, November is the time to catch the reverse migration as the herds return to Serengeti. Explore the Jewels of Africa on this 14day tour that takes you to Serengeti, plush with its great wildlife concentration,as well as nine other parks and reserves set in the backdrop of Mount Kilimanjaro.
http://www.planetwildlife.com/travel/itineraries/jewels-africa-kenya-tanzania
December - Antarctica + Sri Lanka
Antarctica: Head to Antarctica for the Penguin breeding season. Set foot on scenic islands, visit remote research stations, and spot an impressive variety of seals, penguins and birds on this 10day cruise.
http://www.planetwildlife.com/travel/itineraries/antarctic-peninsula-south-shetlands
Sri Lanka:Make your way to Sri Lanka this December to get a glimpse of the gigantic blue whales and leopards.Sight leopards, sloth bear and other wildlife at Yala National Park—known to have the highest concentration of leopards in the world. Set sail from the quaint seaside town of Weligama to watch the blue whales and spinner dolphins that are in these plankton rich waters in December.
http://www.planetwildlife.com/travel/itineraries/blue-whale-and-leopard-experience
For further information, please visit http://www.planetwildlife.com or contact a PlanetWildlife office (listed on the website).
PlanetWildlife is a leading international provider of diverse wildlife and safari tours with over 300 creative itineraries in 26 countries around the world, catering to a wide range of interests and budgets.
About PlanetWildlife
PlanetWildlife is an international sustainable travel company that specializes in wildlife travel. It is backed by highly successful entrepreneurs and managed by a professional team who are passionate about wildlife and have been involved in a variety of conservation activities over the years. PlanetWildlife.com features more than 300 itineraries to Africa, Asia, and the Americas comprising a diverse range of photography safaris, hiking expeditions and bird-watching adventures, as well as ocean cruises to the Arctic and Antarctica.
Most tours offer daily departure dates and each is well organized, competitively priced, environmentally responsible, and tailored to suit the requirements of group or individual travellers. All tours are led by highly qualified and experienced leaders, and aim to leave a minimal negative impact on the environment.Respected travel industry professionals and wildlife experts work in consultation with PlanetWildlife and are instrumental in designing each itinerary.
The company takes a comprehensive approach to sustainability by promoting a greater understanding and respect for local cultural, social and environmental issues through tourism and its corporate social responsibility initiatives. It is part of PlanetWildlife's corporate policy to fund select awareness drives and wildlife conservation programs and welcomes suggestions from the public in this regard.
For further information on responsible tourism, itineraries and tours, please visit http://www.planetwildlife.com, or email: info@planetwildlife.com. For global media inquires please contact Talia Salem at talia(at)planetwildlife(dot)com.