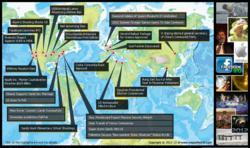 The events represent an exhaustive selection of important headlines through the year
San Jose, CA (PRWEB) December 27, 2012
History is made each year by events which influence social, political, scientific, and cultural outlook. 2012 has been a very eventful year in many respects. From the diamond jubilee celebrations of Queen Elizabeth to the re-election of President Obama, the discovery of the God Particle to the launch of the Facebook IPO, and from the Summer Olympics in London to the second bailout package of Greece each major event covered in Remember 2012 has been a momentous one which shall be written in history and shall shape the future of times to come.
MapsofWorld has categorized the events into People & Society, Politics, Business, Science & Technology, Sports, and Natural Disasters. Users are invited to vote for the event that impressed them the most in each category and share their votes with their social networks. Users may vote for only one event in each category each day. The events represent an exhaustive selection of important headlines through the year including interesting events such as the discontinuation of Encyclopedia Britannica's print version, the 2012 December Doomsday prediction, Neil Armstrong's death, and Lance Armstrong's fall from grace.
Mapsofworld.com is one of the world's largest mapping and content portals and has been an important mapping research aid since 2003. The site has over 25 million map downloads to its credit and has drawn over 66 million visitors till date. Since 2011, MapsofWorld has introduced a series of features about topics of global or social concern.
About the company:
MapsofWorld.com is a multilingual portal offering high-quality maps and information across geographies and platforms. With special focus on educational content, the portal has thematic as well as interactive maps on all major platforms: Web, iPhone, iPad, iPod, and Android. World Atlas and World Quiz are two highly successful educational apps. Other services offered are custom mapping, content digitization, and the online map store.
For more information, please contact:
social (at) mapsofworld (dot) com
MapXL Inc.
10 S. Third Street, Suite 310,
San Jose, CA 95113